UPHS – Marquette Heroes | Nicole Perrier, PA-C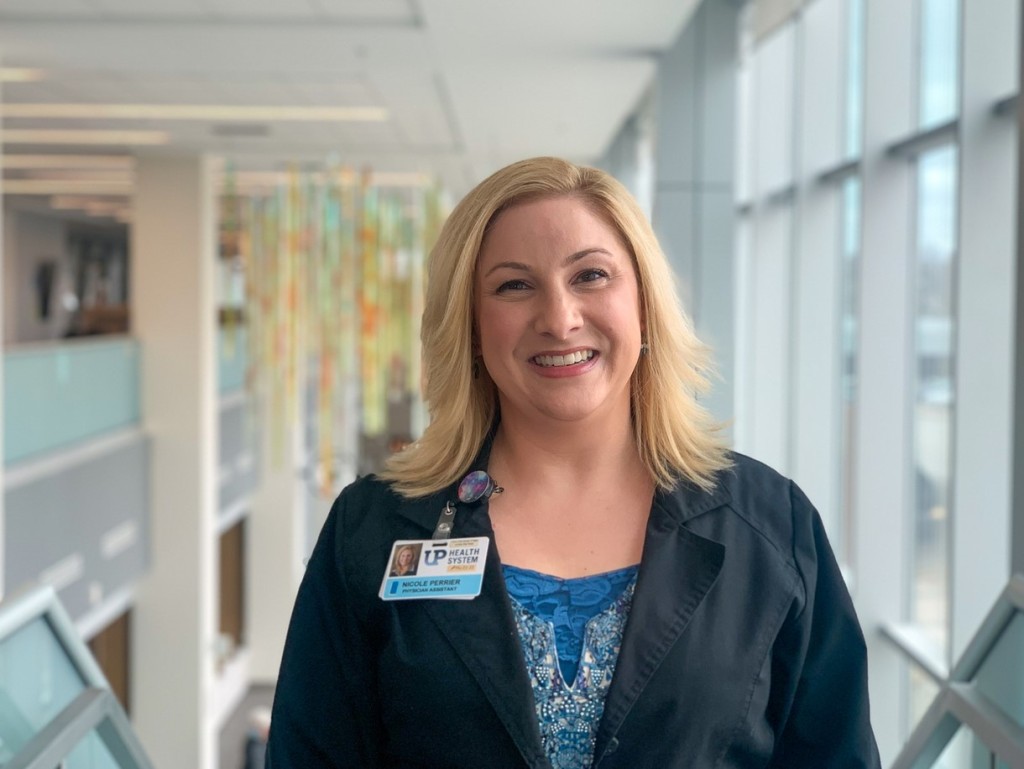 What is your role at UPHS – Marquette?
I am a Physician Assistant (PA) for Behavioral Health and currently work on the inpatient adult psychiatry unit.
What was your inspiration for getting into healthcare?
During my high school years, biology and science classes were always the most interesting to me. As I was looking towards a career path, I was drawn towards medicine by all the possibilities it could offer and the ability to help patients with their health and wellness.
What's a typical day like for you? What is it like working in this field?
My day starts with a team report to receive updates on our patients, as well as any new admissions. I then review my assigned patient's charts before I begin my individual visits. My goal is to assist patients in returning home as soon as possible with the assistance of counseling, possible medications, and follow-up care.
How long have you been employed here? Have you always been in the same position?
This July will be 10 years. I have worked on both inpatient and outpatient psychiatry units.
What are some of the big changes you have experienced in this position?
The move to the new hospital was a significant change for us in psychiatry, especially since our department is now in two separate buildings, as the outpatient unit remained in the old hospital. The COVID-19 pandemic has also been a challenging experience and we've learned a lot from it.
What are some of your interests outside of work? What is your favorite local gem?
I Iove taking my dogs for walks, gardening, boating, and going off-road riding in our side by side. My husband and I live in an area where we get to watch numerous wildlife in our backyard. We have deer, various species of birds, and a groundhog family that returns every year. My favorite local gem is Lake Superior, whether at the beach or on the water. Nothing can compare to the beauty of this great lake and I wouldn't want to live anywhere else.
What do you enjoy most about working at UPHS – Marquette?
Being able to help patients live a better quality of life is rewarding. I am very fortunate to work with amazing co-workers. Their hard work, dedication, and compassion help our unit provide care for our patients.
Read All Posts