UP Health System - Marquette Heroes | Michael Parks, RN, BSN, CDCES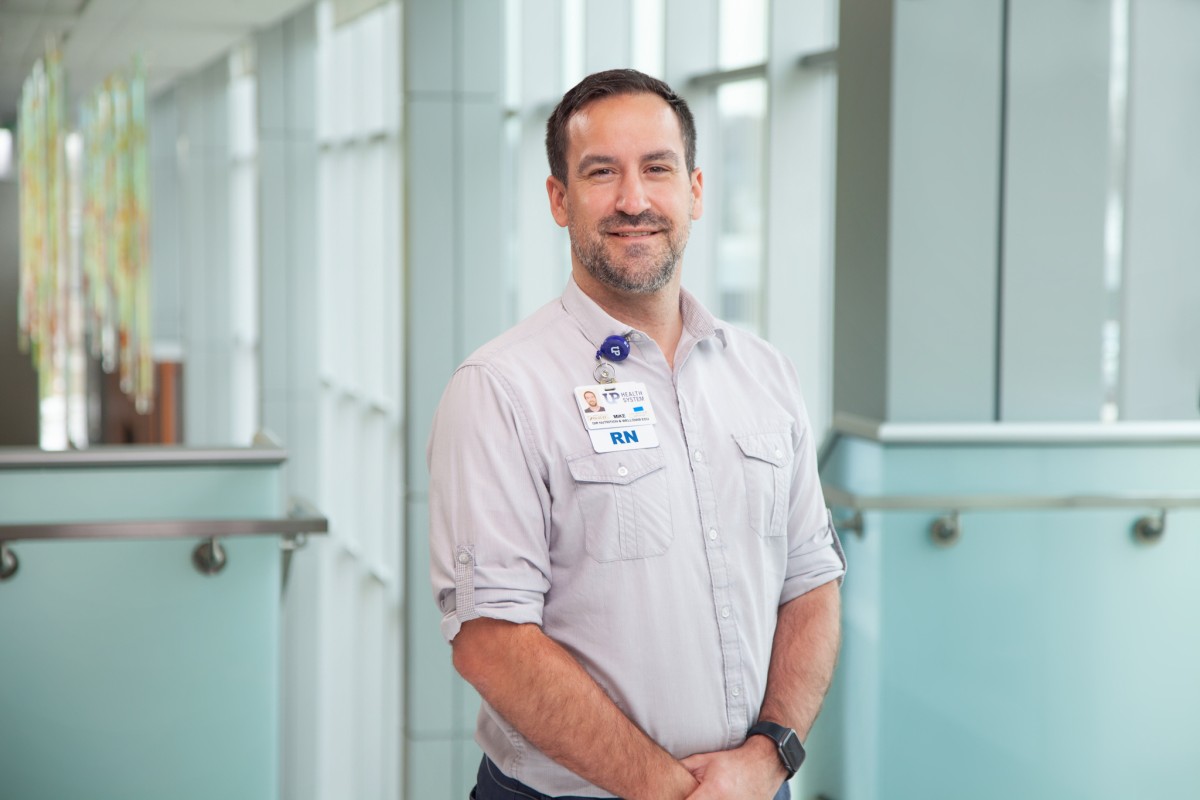 What is your role at UP Health System – Marquette?
I am the Director of Nutrition & Wellness and Diabetes Education, a Registered Nurse, and a Certified Diabetes Care and Education Specialist at UP Health System – Marquette.
What was your inspiration for getting into healthcare?
I love to talk and communicate with people. I also love teaching and helping others when in need. I felt that nursing was a field that provided plenty of opportunities as far as job availability and growth.
What is a typical day like for you working in this field?
I work with amazing Registered Dietitians and Registered Nurses, providing inpatient and outpatient services for Nutrition and Diabetes. You will find us on all inpatient units, assisting providers with nutrition support, glycemic management, and evaluating and educating patients on their needs at discharge. In the outpatient setting, we give patients the tools they need to self-manage health conditions through medical nutrition therapy or diabetes education.
How long have you been employed here? Have you always been in the same position?
I have been employed at UPHS since 2010. I originally worked as a nurse in the Cardiac Cath Lab. I loved my time there, working with so many great people. I was also cross-trained to work in ICU. After having kids, trying to balance a call schedule with my wife became too difficult. I ended up taking the first Inpatient Diabetes Educator position in 2015 and moved to Department Director in 2017.
What are some of the significant changes you have experienced in this position?
The move to the new hospital was a great experience and challenge. It was amazing to see so many moving parts come together for such a large event. The amount of work that was done behind the scenes by so many was humbling. I was able to watch the first patient come through the doors of our beautiful facility.
What are some of your interests outside of work?
Outside of work, I love sports and the outdoors. My largest passions are hockey and golf, but I also enjoy skiing, tennis, boating, swimming, and bike riding cruiser style.
Being on Lake Superior, and enjoying the shoreline is magical. My mom taught me to enjoy all of what the Upper Peninsula has to offer. As a family, we love going to Little Presque Isle and Wetmore Beach, enjoying our long summer days.
What do you enjoy most about working at UPHS–Marquette?
Working at UPHS – Marquette brings me a lot of pride. The services that we provide to the community cannot be overlooked. When patients and families are in need, we provide them with the support they need. We should all be proud that we give our best each and every day to promote the quality of life we have here in the UP.
I also love the collaboration that I am able to have with so many talented people to improve patient care.
Read All Posts