UPHS – Marquette Heroes | Melanie Murray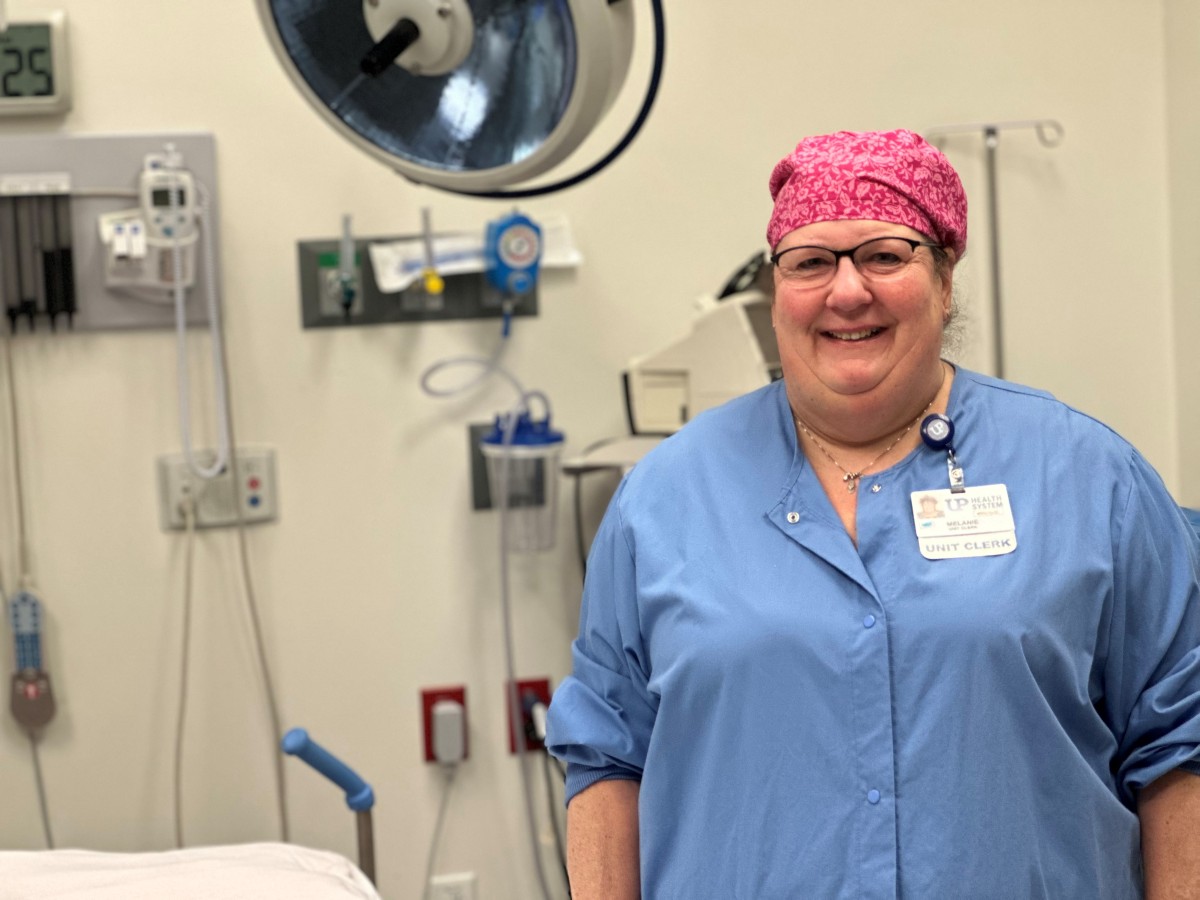 What is your role at UP Health System – Marquette?
I am a Unit Clerk in the Emergency Department (ED) at UP Health System – Marquette.
What was your inspiration for getting into healthcare?
My awesome neighbors and former longtime hospital employees, Shirley and Dean Jackson, mentioned it to me way back and I jumped at the opportunity! Before that, I had NO idea that I would even be interested in healthcare.
What is a typical day like for you working in this field?
There is no typical day in the ED, which is why I love my job! Unit clerks work closely with the charge nurse and physicians throughout our shift. My early morning starts with reviewing the patient charts from the previous day and getting them ready to be sent to medical records. We do that in between answering phones and streaming the calls appropriately. We also enter all of the orders for testing, imaging, procedures, etc. for each patient. We work closely with logistics to help facilitate the comings and goings of patients leaving the department, whether it be going next door for imaging, to the operating room, or upstairs to be admitted. There is much more we do that just comes automatically and it is hard to list it all. I have been told we are often the glue that holds the department together!
How long have you been employed here? Have you always been in the same position?
I will start my 33rd year at the hospital at the end of August. I started out as a "nurse extender" in the Oncology Unit where I was for about two years. I then had the opportunity to move to the Surgical Unit where I worked for about 20 years. We had an awesome group of coworkers with a lot of longevity. We were the floor everyone wanted to work on but there was very little turnover. We were a close-knit group that worked well together and were often seen together outside of work having fun. Later there came a time the hospital dissolved our unit and our group was given an opportunity to go to one of two floors that merged. I did a short time in the Medical Unit but when an opportunity came to work in the ED, I jumped on it. I worked for a while as a nurse tech and then was offered a position as a unit clerk where I remain. I often say I will be here until it's my time to go to a nursing home as a patient!
What are some of the significant changes you have experienced in this position?
Back in my earlier days one of the most significant changes was when we progressed to electronic documenting. Most recently it would be the move from the old hospital and the excitement of the new hospital!
What are some of your interests outside of work?
I love my time spent with family and especially my seven grandchildren. I also enjoy traveling, cooking, and our Upper Peninsula summer and fall months. I am not really keen on our long winters! My local gem is Presque Isle and Lake Superior.
What do you enjoy most about working at UPHS–Marquette?
My work family—both past and present. I have been very fortunate to work for some awesome department managers and many employees throughout the hospital. We strive to work together and provide the best care we possibly can with the patient's best interest in mind. There is no letter I in the word TEAM—it's TEAMWORK!
Read All Posts