UPHS – Marquette Heroes | Emma Evans, BSN, RN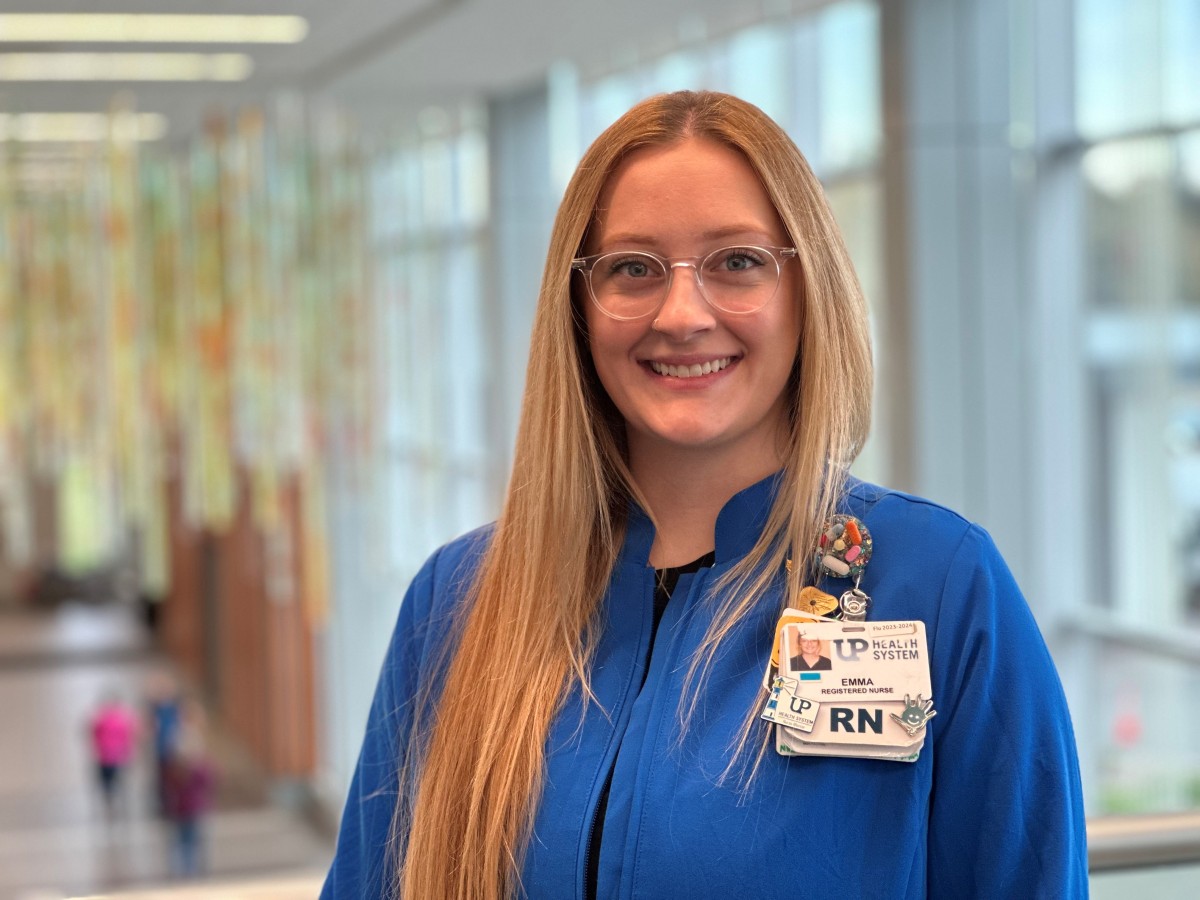 What is your role at UPHS?
I am a Registered Nurse (RN) in the Emergency Department (ED) at UP Health System – Marquette.
What was your inspiration for getting into healthcare?
When deciding on what career I wanted to pursue, I knew I wanted to do something in healthcare but had a hard time selecting which path to take. As part of the application process at Northern Michigan University, you are encouraged to select a major. I went through the drop-down menu and selected nursing because I thought it could be interesting. Now, after going through nursing school and being a nurse, I cannot imagine doing anything else as a profession. I wake up every morning for my patients, to help put a smile on their faces, to make them feel better, and provide education to help them while they are in the hospital.
What's a typical day like for you? What is it like working in this field?
Working in the ED is different every day. Most days I provide nursing care to a select number of patients, other days I am triaging patients doing quick assessments to determine the urgency of treatment. I have also been a charge nurse, primarily focused on patient flow and overseeing the department. It is beneficial to work in the many roles to understand how each role is equally important in providing the best possible care to the community. Overall, the ED is very fast-paced—you are responsible for making important decisions in stressful situations. While the job can be challenging at times, it is rewarding to know that I am truly making an impact to help my community on what might be the worst day of their lives.
How long have you been employed here? Have you always been in the same position?
I have worked at UP Health System – Marquette for five years, starting as a care aide on the medical/surgical floor. When I graduated from nursing school, I started working as an RN in the staffing pool. There, I was able to gain experience on multiple floors including cardiac, medical/surgical, neuro/ortho/peds, intermediate care, psychiatric and inpatient rehabilitation. I worked there for about two years until I realized critical care was my calling. In 2022, I started working in the ED.
What are some of the big changes you have experienced in this position?
Since I started working in the ED, there have been ongoing changes in how to improve patient flow and experience. I recently joined the ED Steering Committee in hopes of bringing a nursing perspective and suggestions to large decisions that are made.
What are some of your interests outside of work? What is your favorite local gem?
Outside of work, I like to either curl up with a cup of coffee and read a book, or go hiking with my two dogs, Remi and Bailey. We love to explore all of Marquette, but our favorite place to go is my family's camp on Lake Michigamme.
What do you enjoy most about working at UPHS – Marquette?
One of my favorite aspects about working here is my coworkers. As an ED nurse, I work side by side with many different healthcare professionals. I am constantly expanding my knowledge and building professional relationships to better serve my community.
Read All Posts