UP Medical Group – Urology Welcomes Brian Odom, MD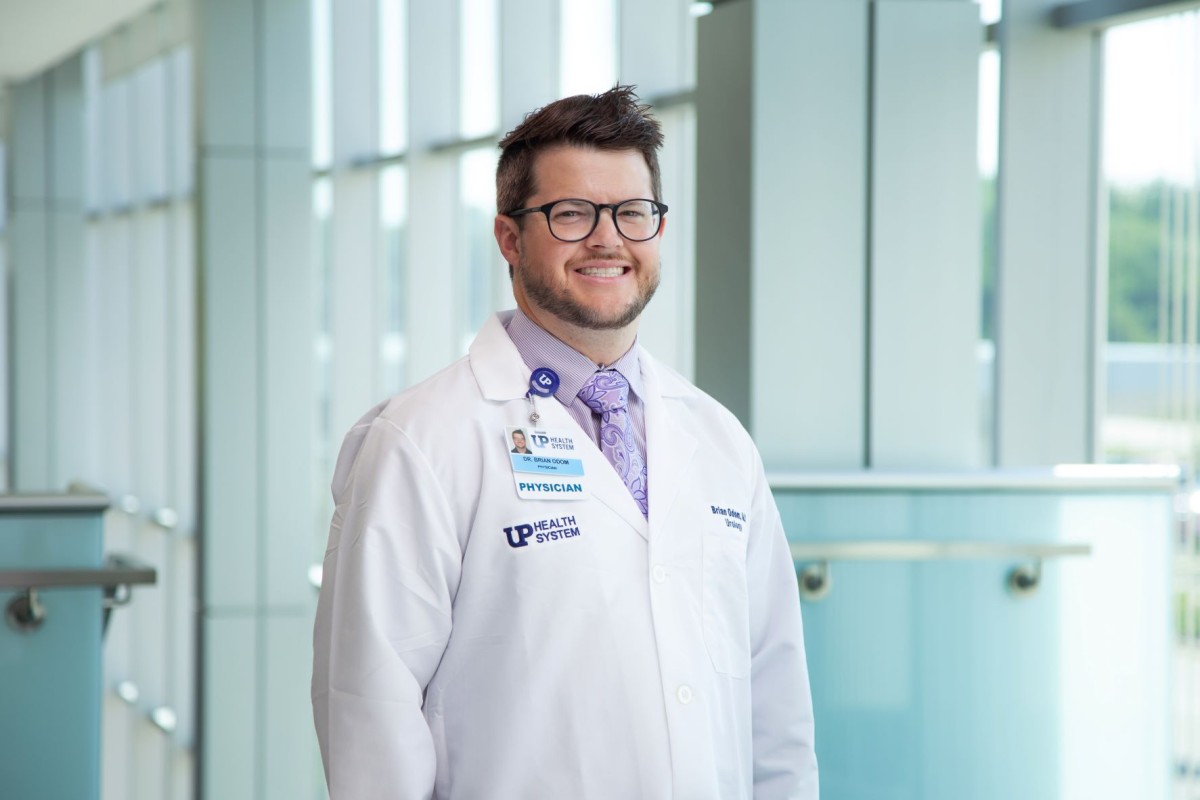 Offering urology services close to home with expansion in robotic-assisted surgical options
UP Health System is pleased to welcome Brian Odom, MD, to the Urology practice. Dr. Odom sees patients of all ages for diseases and disorders of the kidneys, bladder, urinary tract, and male reproductive organs. With specialized training and experience in robotic-assisted surgery, Dr. Odom expands available minimally-invasive surgical options involving the urinary system – including the prostatectomy procedure.
Dr. Odom earned a Bachelor of Science in Human Biology from Michigan State University in East Lansing, MI, before attending medical school at the Oakland University William Beaumont School of Medicine in Rochester, MI. In his post-graduate training, Dr. Odom joined Beaumont Health System in Royal Oak, MI, to complete his internship in general surgery and his residency in urology.
For many patients, urology issues are sensitive and can be difficult to discuss – even with medical professionals – which can lead to delayed care. Dr. Odom values the trust that his patients place in him and focuses on building good relationships to improve patient health in the long term. He brings extensive experience in robotic-assisted surgery and will provide minimally-invasive surgical options for patients in the Upper Peninsula.
"With more urologic surgical options available, residents of the UP will be able to receive the treatment they need without traveling far from home," said Dr. Odom. Robotic-assisted surgical technology at UP Health System – Marquette offers higher precision for surgeons and can lead to smaller incisions and shorter recovery times for their patients.
Outside of work, Dr. Odom enjoys trail running, mountain biking, cooking, and spending time with his wife, Nikki, their three children, and the family dog, Barney. Dr. Odom has always admired Michigan and looks forward to calling the UP home. "Ever since my wife and I first visited this area, we knew it would be a great place to raise our family," said Dr. Odom.
Dr. Odom joins urologist Jay Lonsway, DO, and providers Sara Kocha, PA, Ashley Lucas, PA, and Angela Rose-Kratz, NP, at UP Health System – Marquette located in the Medical Office Building at Suite 12, 850 W. Baraga Ave. Dr. Odom will also provide services via telehealth and at UP Health System – Doctors Park in Escanaba at 710 Lincoln Rd.
Appointments may be made by calling 906.449.3360. For more information, visit UPHealthSystem.com/Urology.
Read All Posts