UP Health System - Marquette Heroes | Erika Tollefson, RN, BSN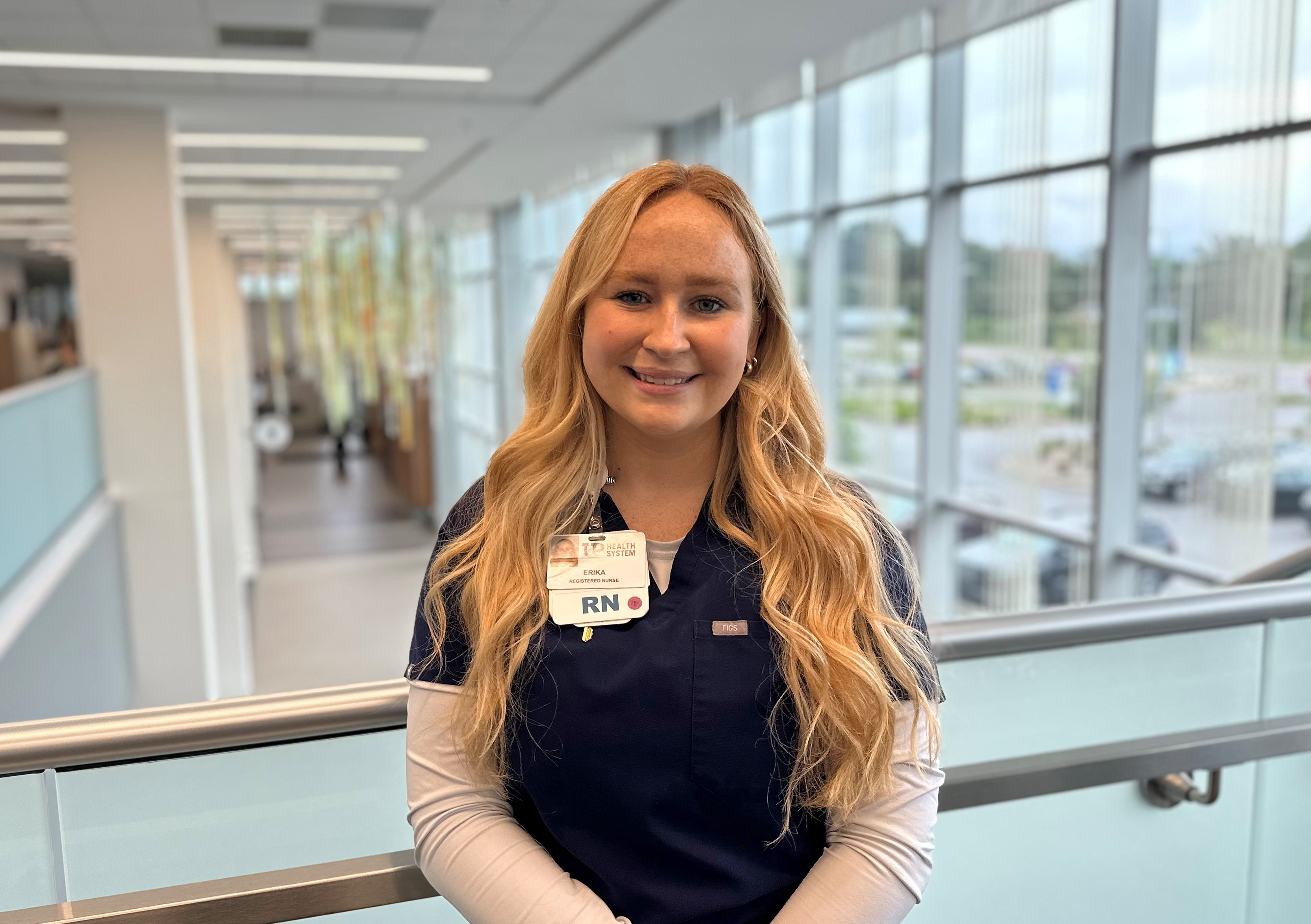 What is your role at UPHS?
I am a Registered Nurse (RN) on the Adult Behavioral Health Unit at UP Health System – Marquette.
What was your inspiration for getting into healthcare?
Growing up, I always had an interest in healthcare. When I was younger, my dad was an emergency medical technician and would tell me stories that would interest me. I also grew up in an underserved community, and as I got older, I saw many people not receive the mental healthcare they needed and deserved. While I was getting my Bachelor of Science in Nursing (BSN), I had a professor who inspired me to get into this specific field and encouraged me to take the path that I felt was right for me. In addition to that, I have always liked working with people and wanted to help others. I have had a lot of positive influences and supporters to get to where I am today in nursing.
What's a typical day like for you? What is it like working in this field?
As an RN on the Behavioral Health Unit, generally, I am trying to create a therapeutic environment and offer support to people experiencing a mental health crisis. What that looks like really depends on the person I am working with. Each specific patient is unique and may require different approaches. Working in this field is challenging, but it is highly rewarding to build rapport with a person to a level where they feel they can be vulnerable with you. Each day is different—that's what I love about my job.
How long have you been employed here? Have you always been in the same position?
I have been employed as an RN for a little over a year. I was a certified nursing assistant during college, but this is my first job after graduating with my BSN and with UP Health System – Marquette.
What are some of the big changes you have experienced in this position?
A lot has changed for me personally in this position over the past year. I have started training other new nurses on the unit. I have also had the opportunity to become the charge nurse while on the unit, and with that comes the added responsibility of dealing with difficult situations. I have learned so much and grown a lot over the past year in my leadership abilities, knowledge and decisiveness. I feel confident in what I do and have made many new and genuine connections with others. My coworkers are very supportive and have helped me get to where I am today as a nurse.
What are some of your interests outside of work? What is your favorite local gem?
Outside of work, I like to downhill ski, go for side-by-side rides and play softball. On Sundays, I like to cheer for the Green Bay Packers. I like to travel when I can, and I love a good girl's trip. I enjoy spending time with my friends and family the most. My favorite local gems are Lake Superior and the Smelted Pizza Truck!
What do you enjoy most about working at UPHS – Marquette?
I love that I get to give back to a deserving community that I grew up in. Although this job can be challenging at times, I work with the best group of people and amazing patients who make it worth it. I am very passionate about what I do, and I am grateful that I get to do what I love every day. Mental health is so important - help destigmatize it and take care of yourself.
Read All Posts