UP Health System – Marquette Awarded Primary Stroke Center Certification from the Joint Commission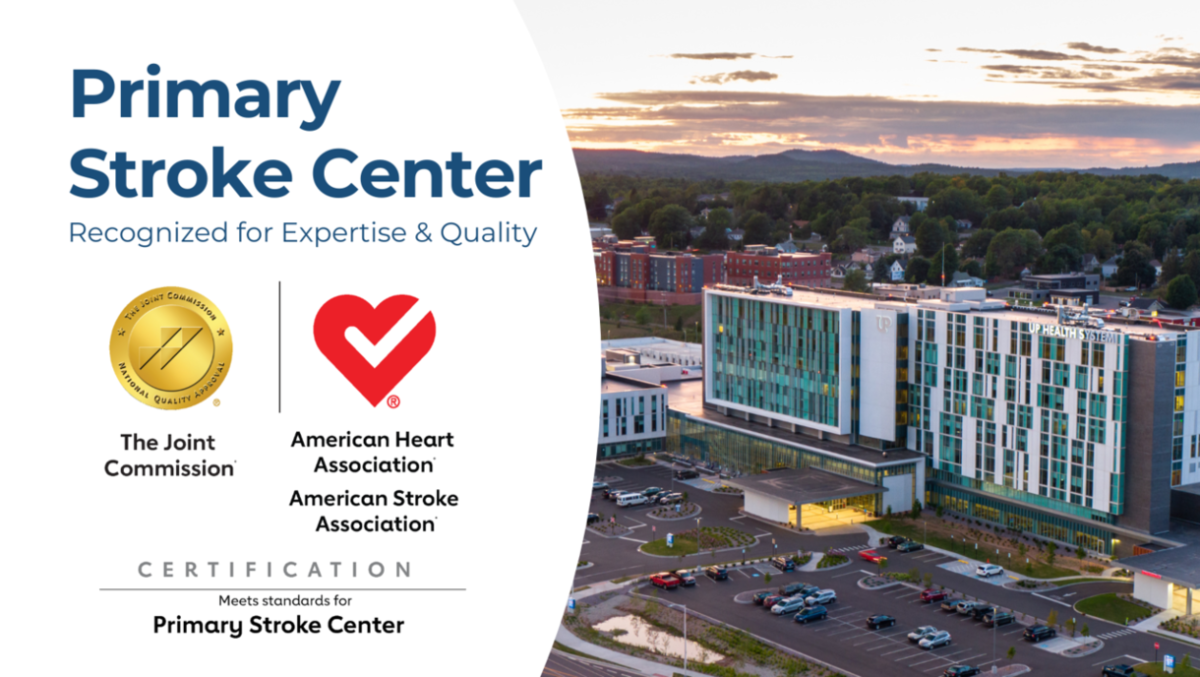 UP Health System – Marquette (UPHS – Marquette), a Duke LifePoint hospital, has earned The Joint Commission's Gold Seal of Approval® and the American Stroke Association's Heart-Check mark for Primary Stroke Center Certification.
UPHS – Marquette underwent a rigorous, onsite review on October 11, 2023, as part of the process to achieve the certification. During the visit, a team of Joint Commission reviewers evaluated compliance with related certification standards including timeliness of stroke treatment, compliance with established stroke care guidelines, and stroke center organization and protocols. Joint Commission standards are developed in consultation with healthcare experts and providers, measurement experts and patients. The reviewers also conducted onsite observations and interviews.
Certification means that UPHS – Marquette has demonstrated a commitment to providing the highest quality care when evaluated against meticulous standards of performance for stroke. Adhering to national standards and guidelines can significantly improve outcomes for stroke patients.
"The Primary Stroke Center Certification recognizes healthcare organizations committed to striving for excellence and fostering continuous improvement in patient safety and quality of care," said Ken Grubbs, DNP, MBA, RN, executive vice president of Accreditation and Certification Operations and chief nursing officer, The Joint Commission. "We commend UPHS – Marquette for using The Joint Commission certification process to reduce variation in clinical processes and to strengthen its clinical program to drive safer, higher quality and more compassionate care for individuals served."
Stroke is a leading cause of death and serious long-term disability for Americans. According to the Centers for Disease Control and Prevention, in 2021, one in six deaths from cardiovascular disease was due to stroke. On average, someone suffers a stroke every 40 seconds and someone dies of a stroke every 3 minutes and 14 seconds in the United States. In 2022, 370 stroke patients were admitted to UPHS – Marquette.
"Caring for stroke patients is a multidisciplinary effort that must be carefully orchestrated to achieve efficiency in time-sensitive situations as well as in-hospital care and discharge planning," said Amy LaMere, BSN, RN, SCRN, CPHQ, stroke and sepsis coordinator, UPHS – Marquette. "This certification is a testament to our hardworking staff and providers who continually provide the highest quality care to every patient that comes through our doors. We are proud to say that more than 60 percent of our stroke patients go home and the majority of the remaining patients need a short stay in a rehabilitation or skilled nursing facility."
The Stroke Steering Committee at UPHS – Marquette focused on several performance improvement projects including patient education materials, collaborative education and training with EMS and first responders. The committee worked with every department in the hospital that would be involved with the patient care path to set best practices.
A stroke occurs when the blood supply to part of the brain is interrupted or severely decreased, which deprives the brain tissue of oxygen and nutrients. Brain cells begin to die within minutes of a stroke.
The symptoms of a stroke are distinct because they happen suddenly. Call 911 if you or someone you know experience any of the following symptoms:
Numbness or weakness of the face, arm or leg (especially on one side of the body)
Confusion, trouble speaking or understanding speech
Trouble seeing in one or both eyes
Trouble walking, dizziness, loss of balance or coordination
Severe headache with no known cause
"We're proud to be the only Joint Commission Certified Primary Stroke Center in the region," said Tonya Darner, chief operating officer and interim chief executive officer, UPHS – Marquette. "Joint Commission Primary Stroke Center Certification recognizes UPHS – Marquette's commitment to providing outstanding care to our patients and community. We look forward to extending stroke treatment and prevention services to our hospital partners and colleagues, with the goal of saving lives and improving the quality of life for patients in the Upper Peninsula and beyond."
The Joint Commission's Primary Stroke Center Certification is based on the recommendations for primary stroke centers published by the Brain Attack Coalition and the American Stroke Association's guidelines for stroke care.
"We congratulate UPHS – Marquette for this outstanding achievement," said Nancy Brown, chief executive officer, the American Stroke Association. "This certification reflects its commitment to providing the highest quality of care for stroke patients."
For more information, please visit The Joint Commission website. For information on the Certified Primary Stroke Center at UP Health System – Marquette, visit UPHealthSystem.com/Stroke.
Read All Posts