Healthy Tips for a Healthy Thanksgiving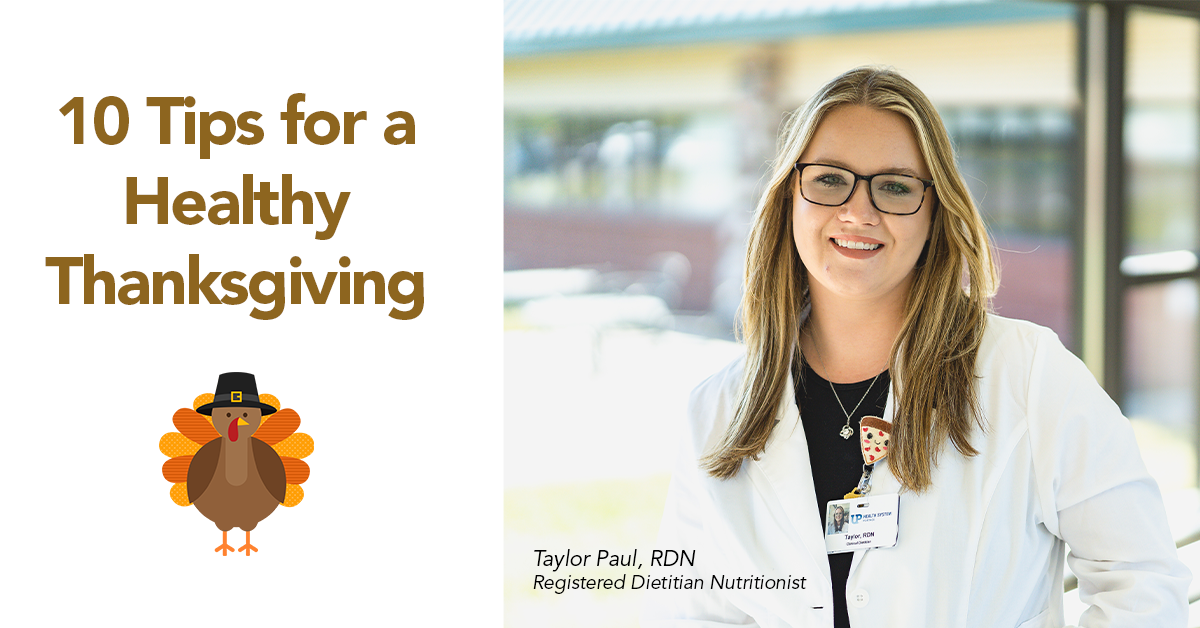 This Thanksgiving and beyond, choose to eat and live a healthier lifestyle. Your diet can have a tremendous impact on your health, but making the right eating decisions can be overwhelming. Taylor Paul, Registered Dietitian Nutritionist at UP Health System – Portage is here to help this holiday season with 10 healthy tips for a healthy Thanksgiving – so you, your family, and our entire community can all be their very best.
Avoid skipping meals

Skipping meals before the big holiday dinner can lead to overindulging
Try to eat during your usual times to help keep blood sugars steady

Be conscious of portions

Use a smaller plate to help control and trick your mind into thinking you have enough food on your plate
Include all food groups – proteins, fruits, vegetables, grains, and diary

Avoid running to the sofa after finishing a meal

Use the time as an opportunity to visit with family or friends
Go for a short walk outside

Enjoy the moment, do not punish yourself

The holidays can bring stress – be gracious with yourself and your loved ones
Enjoy the experience and meaning behind the holiday – do not let how much you eat determine your mood

Mix in a few healthy alternatives in your holiday recipes

Use avocado instead of butter in cookie recipes
Use fat-free yogurt instead of sour cream or mayo in dips
Top casseroles with roasted almonds instead of deep-fried onions
Use whole wheat bread or wild rice in stuffing to increase the fiber content

Avoid holiday shopping when hungry

Stick to your original holiday meal list

Eat slowly

Eat intuitively, savor every bite of the recipes you get once a year
Pay attention to textures and consistencies when eating – it will help you enjoy the food even more
Eat until you're satisfied, not stuffed

Think of color when cooking

Do not be afraid to add color to the recipes
Incorporate a portion of vegetables or fruits as a part of your plate

Drink healthy

Stick with water, tea, or coffee throughout the day
Reduce sugary drink intake

All food fits

Remember, there is no "bad food"
All food is good in moderation
Enjoy the holidays and the famous meals without guilt
Eating healthy this thanksgiving does not have to be complicated or boring. A healthy eating style can be as unique as you – personalize your plate today and every day for good health. To learn more from our Registered Dietitians at UP Health System – Portage, talk with your primary care provider for a referral. From the routine to the unforeseen, count on us.
For more information on our nutrition and wellness services, visit UPHealthSystem.com/Nutrition-Wellness
Read All Posts