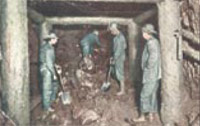 "A Tradition of Strength"
UP Health System - Bell is a thriving, community-oriented, for-profit hospital that has served the residents of Western Marquette and Baraga County for more than a century. The organization's modest beginnings are built from a rich mining history by hard working men filled with determination and a lot of heart.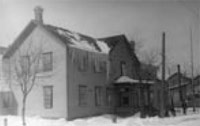 With the discovery of iron ore during the rugged 1840's in the newly developing communities of Ishpeming, Negaunee and surrounding areas, there became a need for doctors. In the beginning, that need was met by traveling nurses and physicians and a tiny hospital. The first community hospital opened its doors to patients on Canda Street in Ishpeming in 1872. By 1887, the hospital had grown and relocated to the former Legion building on Pine Street with a physician force numbering four.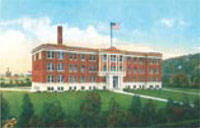 In 1917, Cleveland Cliffs Iron Company took the lead in building a new 50 bed hospital with the latest medical and surgical equipment. The state of the art facility opened in 1918 and by 1950 there were 68 members on the hospital staff.
In 1952, Ishpeming attorney and Cleveland Cliffs Vice President Francis A. Bell helped transfer ownership of the hospital from Cleveland Cliffs to the Ishpeming Negaunee Association. CCI pledged $650,000 towards a $1 million expansion project. The remaining $350,000 was raised through generosity with a pride, a strength and a spirit of the local citizens of Ishpeming, Negaunee and the surrounding communities.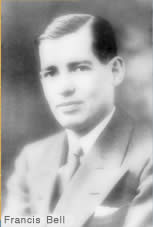 In 1954 the hospital was named Francis A. Bell Memorial Hospital following the respected civic leader's untimely death from cancer in 1952.
In 1975 a $4 million project to renovate Francis A. Bell Memorial hospital began May 9. It included new laboratories, radiology, emergency and outpatient suites, an obstetrical unit, administration and admitting offices, a new power plant, surgical suites and renovation to the present operating rooms. The dietary department was also expanded and updated to include a new cafeteria and a combination eight-bed coronary care and intensive care unit replaced the previous four-bed facility.
In 2008, Bell Memorial Hospital was the oldest functioning hospital in the state of Michigan. However, a capital campaign to raise funds for a new hospital had begun a number of years before and in September of 2008 the new "Bell Hospital" opened its doors at 901 Lakeshore Drive in Ishpeming, MI. The hospital updated its facility, its image and its branding with a new logo containing a tree. (The logo used previously contained a bell image within the name.) The new facility, licensed for 25 beds (4 in ICU, 4 birthing suites, and 17 acute care/flex rooms), had 2 operating rooms with an approved certificate of need from the state for a 3rd. The ER had expanded from 7 beds at the old facility to 9 at the new. The hospital also contained a new angio suite with state of the art equipment, a pharmacy, care for children while their parents were at appointments (Kids Korner), a fitness center with certified personal trainers and corporate wellness packages, a gift shop and a plan with funding to build a fitness trail on the property around the building. The new facility also contained space for 10 specialty practices in the medical office building- attached to the hospital.
The fitness trail was completed in 2009 and an additional certificate of need was approved in January of 2013 for a 4th operating room. (Construction of the 4th OR was completed in July.) In February of 2013, Bell Hospital's Breast Care Services were bestowed with the title of Certified Breast Center and, later on Breast Center of Excellence.
Though successful, Bell Hospital, began to experience financial woes due to issues with financing for the loan to build the new facility. In 2011, the board of directors and the Bell Administrative Staff began searching for partnership opportunities. In 2012, a letter of intent was signed for Tenessee-based LifePoint Hospitals to aquire Bell Hospital and eliminate the hospital's debt- ensuring its existence in the community for future. The next year would entail a lengthy acquisition process and in November of 2013 the Attorney General approved the sale. December 1, 2013 Bell began its first day of business operating as a LifePoint Hospital.
UP Health System - Bell continues to be a community hospital providing state of the art technology, care and services close to home.