UP Health System – Portage Now Offering a Registered Nurse (RN) Resident Program for New RN Graduates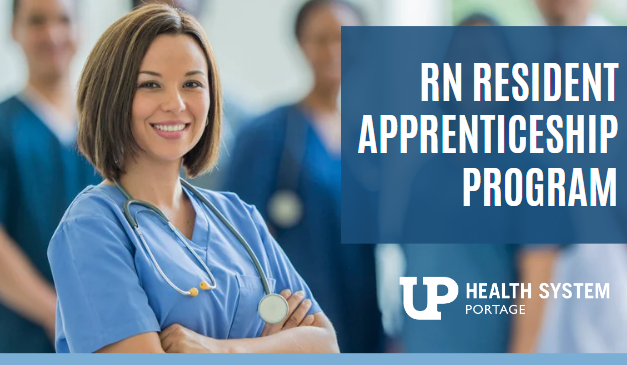 To support and prepare RNs in their transition to clinical practice through online and in-person modules with preceptor and mentor support.
UP Health System – Portage (UPHS – Portage) is excited to announce the offering of a RN Resident Program for all new RN graduates. For many, transitioning from the classroom to becoming a competent nurse at the bedside can be a difficult and intimidating journey for new nurses – this program is designed to support them in their new roles and to feel comfortable with the hospital's culture.
The program spans the first year of employment at UPHS – Portage and consists of three phases; phase one – clinical competency; phase two – culture and transition; and phase three – leadership development. Throughout each phase, nurses will experience a blend of learning through online training, on-the-job training, and reflection and integration with preceptor and mentor support with designated nurses who are qualified, driven and compassionate at UPHS – Portage.
Upon completion of the RN Resident Program, new nurses can and will receive the following benefits:
Continuous support from experienced mentors & preceptors
Competitive pay rates
Program tuition reimbursement – when eligible or enrolled in a current course
Expansive benefit package with generous PTO
Professional development and advancement opportunities
Supportive leadership and culture
"The addition of the RN Resident Program at UPHS – Portage reinforces our commitment to making communities healthier – both inside and outside of our walls – to ensure the highest level of care from our nursing team is received," said Tamar Gagnon, employee health and onsite coordinator, UP Health System – Portage. "We currently have nine new RN graduates who are enrolled in the program and I am excited to see their confidence rise over time."
UPHS – Portage's highly skilled team of nurses throughout various departments have volunteered their time and expertise as preceptors and mentors for new nurses enrolled in the program. At this time, UPHS – Portage has eleven nurses within the inpatient unit who are assigned to a new nurse as their mentor to help them understand charting, bedside shift reports, quality reports, and much more.
"The nursing resident program is a great program for all new RN grads—and we as mentors enjoy working with a group of enthusing nurses who are driven to excel in their skills, become more confident at the bedside, and enjoy their career in healthcare," stated Mary Willmer, RN. "I am proud of UPHS – Portage for not only being a dedicated facility for providing the best patient care but also being a learning facility where we teach, encourage and support our nurses."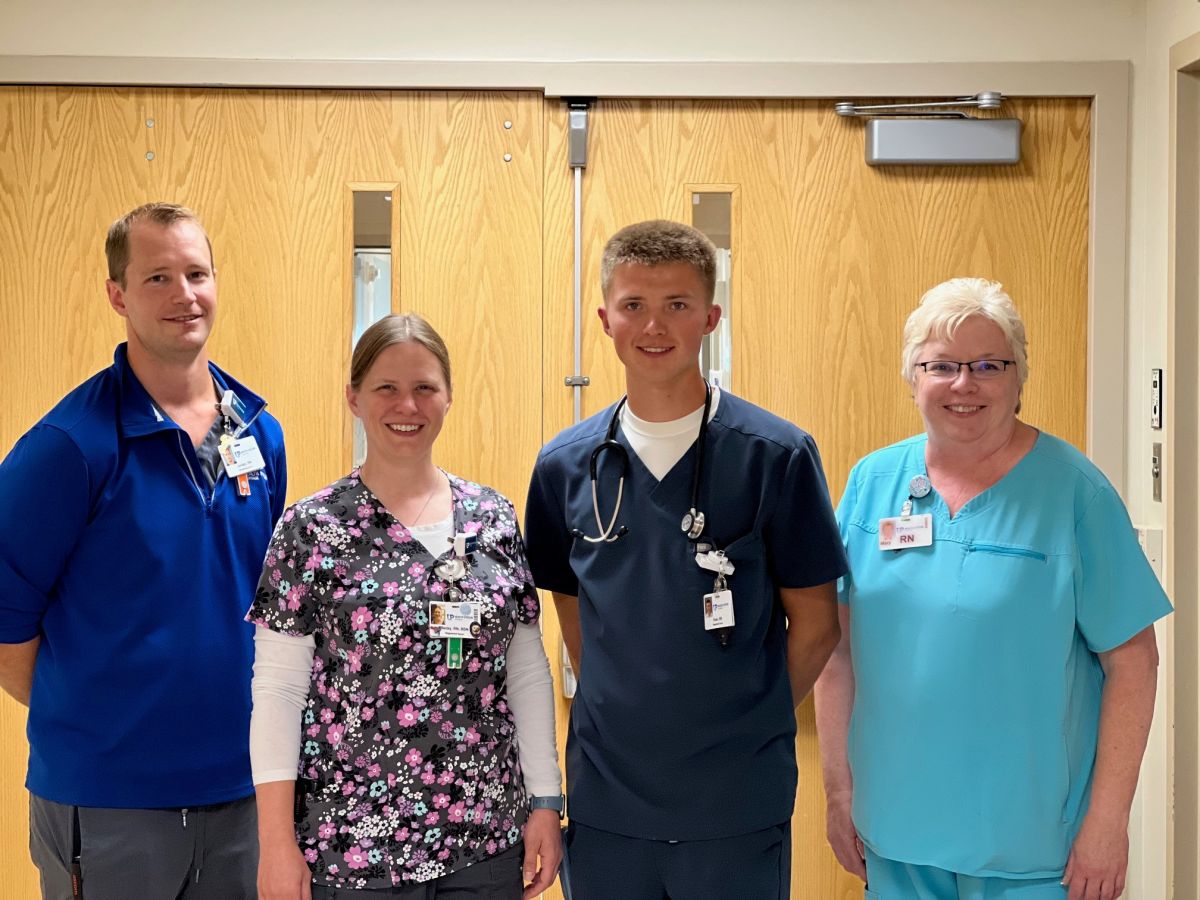 Pictured left to right: Jordan Juntunen, RN, Becky Kerry, RN, Evan Hyrkas, RN, and Mary Willmer, RN. These four nurses are mentors/preceptors for the Inpatient Unit.
"The overall vision of utilizing our very own nurses as mentors and preceptors at UPHS – Portage is to create respect and trust within one another as they invest time and energy into gaining the necessary skills to provide the best care possible," stated Tamar. "It gives everyone the chance to have a positive experience within their first few shifts as a registered nurse."
For more information on the RN Resident Program, visit our RN Resident Apprenticeship webpage. To view our current RN openings at UPHS – Portage, visit UPHealthSystem.com.
Read All Posts