Recipe Tuesday: Chorizo, Chestnut, Brussel Sprout & Apple Stuffing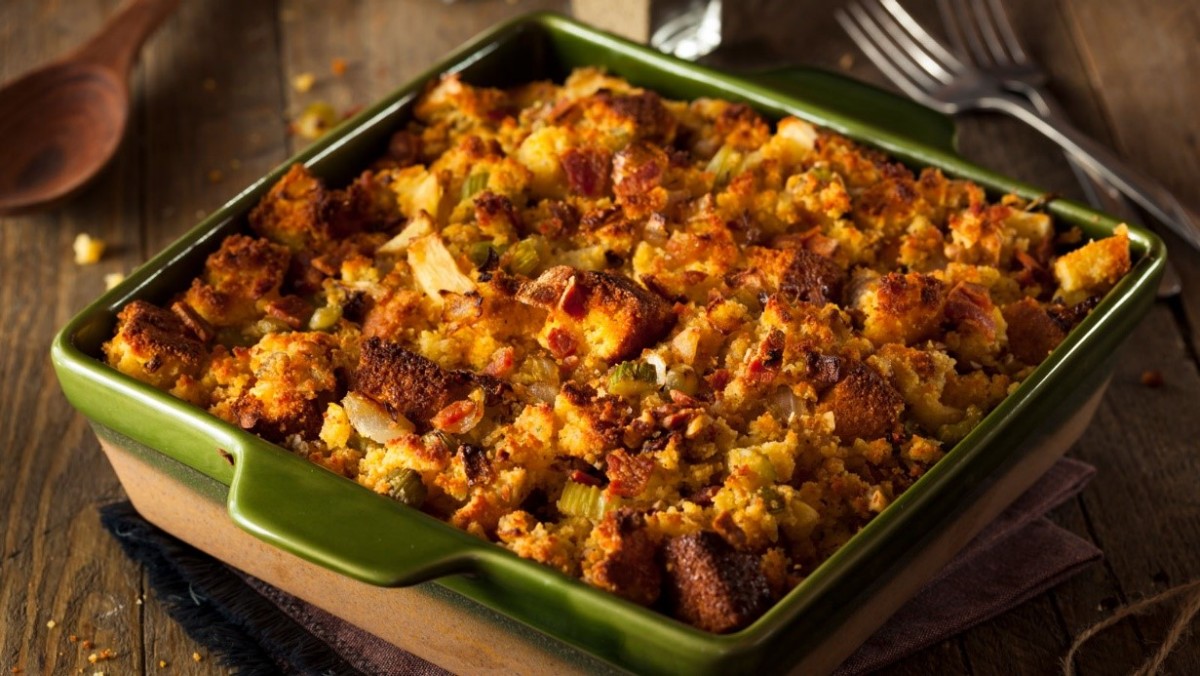 For this week's recipe Tuesday, Registered Dietitian Nutritionist Taylor Paul is sharing chorizo, chestnut, brussel sprout, and apple stuffing to enjoy this Thanksgiving.
Ingredients
8 cups cubed multigrain bread ( 1lb = ½ inch pieces)
12 oz. chorizo sausage, remove the casing
3 tbsp. olive oil
4 cups Brussel sprouts
2 cups diced celery
1 cup chopped chestnuts
2 medium red apples chopped
2 tbsp. fresh chopped sage
2 tbsp. fresh chopped thyme
2 ½ cups unsalted chicken broth
1 cup diced onion
1 tsp kosher salt
2 tbsp. cold butter, cut into ¼ inch cubes
Preparation
Preheat oven to 375 F.
Coat 9X13 baking dish with cooking spray – spread bread on baking sheet.
Bake for 15 minutes or until feels dry.
Cook chorizo in a large skillet over medium-high heat, stirring occasionally for 5 minutes. Add oil, brussels sprouts, celery, and onion to the drippings in the pan and cook until tender, 8-10 minutes. Stir in apples, sage, and thyme. Stir for 1 minute. Stir in ½ cup of broth.
Add vegetable mixture, the bread, and chestnuts to the bowl with the chorizo, and gently stir to combine. Add remaining broth and salt.
Transfer to prepared pan, dot with butter, and bake for 30-40 minutes or until stuffing is crispy on top. Garnish with celery leaves.
Nutrition facts
Serving Size: ¾ up each
Per Serving: 230 calories; protein 6.5g; carbohydrates 26.6g; dietary fiber 4.8g; sugars 8g; fat 10.9g; saturated fat 2.6g; cholesterol 5.1mg; vitamin a iu 185.5IU; vitamin c 6.6mg; folate 45.4mcg; calcium 66.3mg; iron 1.3mg; magnesium 40.6mg; potassium 278.2mg; sodium 286.2mg; thiamin 0.1mg; added sugar 2g.
Contact Us
To learn more from our registered dietitians at UP Health System – Portage, talk with your primary care provider for a referral. From the routine to the unforeseen, count on us. For more information on our nutrition and wellness services, visit UPHealthSystem.com/Nutrition
References
Miller, S. (n.d.). Caramelized onion & apple stuffing. EatingWell. Retrieved October 21, 2022, from https://www.eatingwell.com/recipe/255771/caramelized-onion-apple-stuffing/
Read All Posts