Extraordinary Nurses Recognized at UP Health System – Portage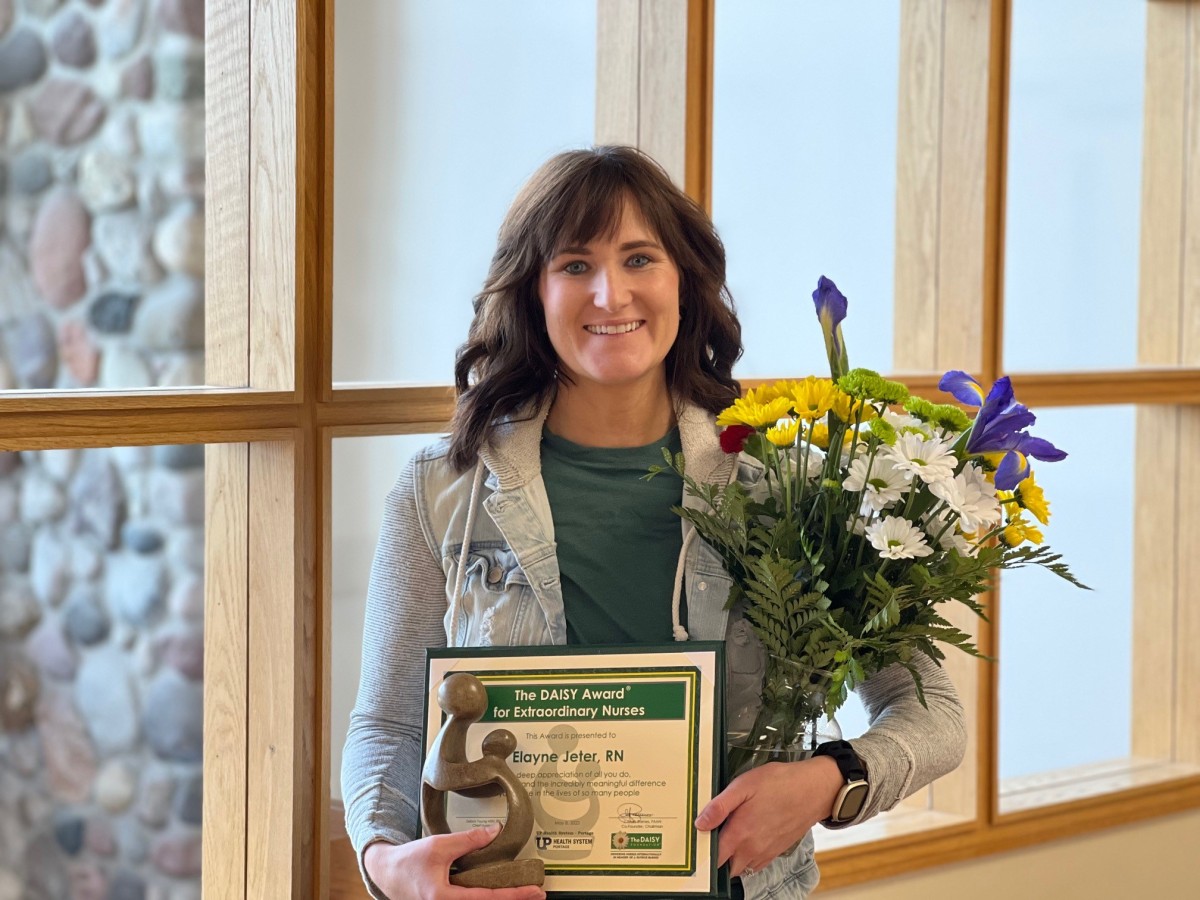 Nurses at UP Health System – Portage are being honored with The DAISY Award for Extraordinary Nurses®. The award is part of the DAISY Foundation's mission to recognize the extraordinary, compassionate nursing care they provide patients and families every day. The DAISY Foundation is a non-profit organization established in memory of J. Patrick Barnes and stands for Diseases Attacking the Immune System (DAISY).
The DAISY Award recipient for this quarter is Elayne Jeter, RN, a nurse who works in the Inpatient Unit at UP Health System – Portage.
"I was admitted to the hospital from the Emergency Department for a pulmonary embolism. My husband was out of town with my son for a hockey tournament and as I was wheeled upstairs I was absolutely terrified of hearing the words "blood clot" "lungs" and "pulmonary embolism"—everything was a blur. Elayne was there in my room and introduced herself. I was in tears and scared of all the unknowns—from the diagnosis to all these medication names, to the severe pain I was having. Elayne was a calming presence and explained everything to me, reassuring me I would be okay and I was in the right place and in the best hands," stated a Houghton County resident. "I can't tell you enough how through that nightmare of a weekend I was so fortunate to have Elayne as my night nurse. She is a very skilled, compassionate nurse and I'm so very grateful she was there on the worst nights of my life."
UP Health System – Portage would like to also recognize the team of nurses who were nominated for the DAISY award:
Alicia Dessellier, RN
Karen Mattson, RN
Kendra Stipech, RN
Mike Salmi, CRNA
Danielle Manderfield, RN
Sarah Manninen, RN
April Carne, RN
Janelle Johnson, RN
Brenn Juntunen, RN
Filip Haataja, RN
Damon Kangas, RN
Deb Juntunen, RN
Nora Pennala, RN
Mary Willmer, RN
Abigail Jukuri, RN
Doris Daavettila, RN
Ashley Chamberlain, CNM
Callie Aittama, RN
Amanda Klein, RN
Leanna Pennala, RN
The DAISY Foundation is a non-profit organization established in memory of J. Patrick Barnes, by members of his family. Patrick died at the age of 33 in late 1999 from complications of Idiopathic Thrombocytopenic Purpura (ITP), a little-known but not uncommon auto-immune disease. (DAISY is an acronym for Diseases Attacking the Immune System.) The care Patrick and his family received from nurses while he was ill inspired this unique means of thanking nurses for making a profound difference in the lives of their patients and patient families.
Nurses may be nominated by patients, families, and colleagues. The award recipient is chosen by a committee at UP Health System – Portage to receive The DAISY Award. Awards are presented throughout the year at celebrations attended by the Honoree's colleagues. Each Honoree receives a certificate commending her or him as an "Extraordinary Nurse." The certificate reads: "In deep appreciation of all you do, who you are, and the incredibly meaningful difference you make in the lives of so many people." Honorees also receive a DAISY Award pin and a beautiful and meaningful sculpture called A Healer's Touch, hand-carved by artists of the Shona Tribe in Zimbabwe.
To nominate an extraordinary nurse with a DAISY nomination, visit UPHealthSystem.com/Daisy-Award. For more information on the DAISY award, please visit the DAISY Foundation website at http://DAISYfoundation.org
Read All Posts