Rehabilitation or skilled care needs following a surgery or medical hospitalization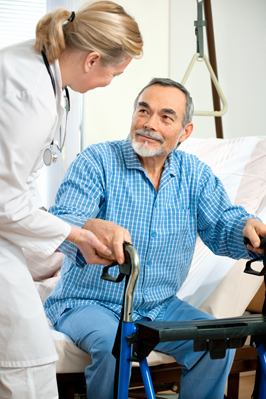 Our Swing Bed Program is designed to provide you with individualized, sub-acute care and/or physical rehabilitation when you have been in the hospital but are not well enough to return home. This care and rehabilitation aims to help you reach an optimal level of wellbeing, functioning and strength so you can return to your own home or residential facility.
Typically, a person requiring acute medical care will be hospitalized as an inpatient for a short time. Some individuals are not yet ready to return home at the end of their inpatient stay. Our Swing Bed Program helps individuals regain their most favorable condition of functioning through our availability of nursing care and/or rehabilitative services provided by physical, occupation and speech therapists during your stay. Nursing care and a routine of medical supervision are keys to your recovery in this program.
Purpose:
To provide ongoing of care for postoperative patients requiring short term rehabilitative therapy.
To help transition inpatient medical patients from hospitalization to home.
To help transition patients from other institution's inpatient service with skilled nursing needs to home.
NOT intended to:
Delay or avoid inevitable nursing home admission.
Provide long term care on Medicare expense.
Requirements to Qualify:
Patient must be hospitalized and qualify as an acute care inpatient (not an observation patient) for at least three consecutive days.
Patient must have a need for skilled services upon inpatient discharge.
Patient must have Medicare or another eligible insurance with available skilled care benefit days.
UPHS offers a wide array of clinical and social services:
All Private Rooms (w/ private bathroom)
Physical Therapy
Occupational therapy
Speech Therapy
Respiratory Therapy
Cardiopulmonary Services
Case Manager
Social Worker
Friendly, Caring Staff
On-site Lab & Radiology Services
Who determines eligibility for admission into a Swing Bed?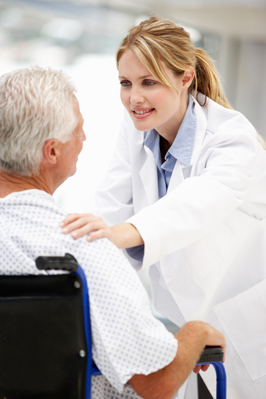 Medicare and state regulations provide patient eligibility guidelines for a Swing Bed. These guidelines state:
A patient must qualify to be hospitalized as an "Acute Inpatient" (not an "Observation Patient") for a minimum of three consecutive midnights within 30-days of your swingbed admission date.
Admissions can come from any hospital, including our hospital.
You or your family can request that your case manager or discharge planner refers you to the Bell Hospital Swing Bed Program.
Even if you discharge directly home and find that you are unable to manage safely due to your medical condition, you are able to be admitted to the Swing Bed Program.
The same Medicare guidelines apply: There must be a three consecutive midnight hospital stay as an inpatient within 30 days of your discharge.
What kind of insurance coverage can be used for Swing Bed Services?
Swing Bed is a Medicare Program. Some other insurance companies cover Swing Bed services. Services are usually covered under the "Skilled Nursing Facility" benefit category. We strongly recommend that you contact your insurance company for specific coverage details before making any health care decisions.
Stays in the Bell Hospital skilled care Swing Bed Program are anticipated to be short and can benefit a variety of patients including, but not limited to those in need of:
Short term rehabilitative therapy.
Daily IV medication therapy.
Daily evaluation and treatment of wounds by skilled personnel.
Leaving the Swing Bed Program
Discharge from Swing Bed to home is determined by your skilled care team, including the Physician, Case Manager, Social Worker and Rehabilitative Team when you no longer require daily skilled care. We will assist you in arranging post-discharge services for any continued needs.