Robotic-Assisted Surgery, Human-Driven Recovery | Linda's Story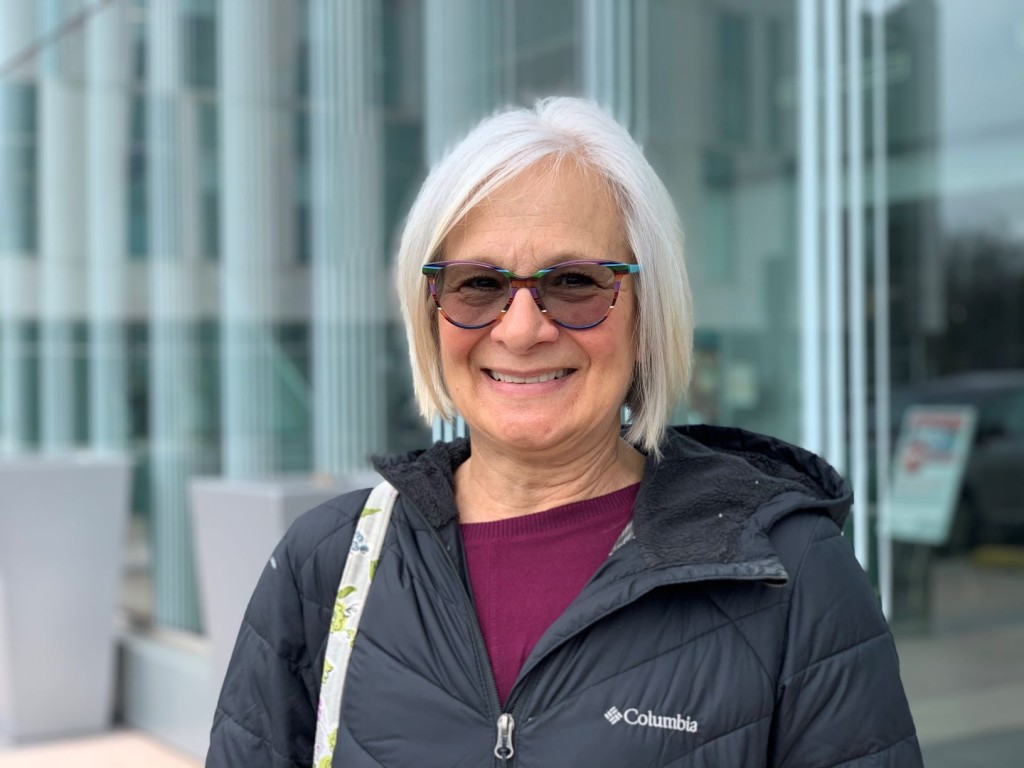 Linda Anderson wouldn't let anything slow her down. UP Health System – Urogynecology was there to help.
For Linda Anderson, her days are dedicated to keeping up with all the things she loves most – like her favorite outdoor activities and spending time with family, friends, and her dog.
One afternoon, Linda was getting ready for lunch with a friend at a local UP campground. Linda has an active lifestyle, so she didn't think twice about moving the heavy picnic table a few feet. But that's when Linda noticed something that felt a little strange in her lower abdomen. She wasn't experiencing pain, but she swore that felt something internally shift after lifting the heavy object.
Later when Linda was using the restroom, she was positive something felt different. Again, she wasn't in pain, but as a trained nurse, Linda understood that this subtle feeling of unease needed to be addressed right away – before it got any worse. Right away, Linda scheduled an appointment with her primary care provider.
After discussing her concerns, Linda's primary care provider confirmed Linda's suspicions that something was amiss. As a 68-year-old mother with an active lifestyle, Linda was at higher risk for a pelvic floor disorder. Pelvic floor disorders are extremely common, affecting 25% of women 20 years or older according to the American Urogynecologic Society. Each case is unique, and specialists in urogynecology receive specific training to diagnose and treat women with pelvic floor disorders.
Linda's primary care provider referred her to UP Health System – Marquette, Urogynecology. There, Linda met Gina Sternschuss, MD, and Melinda Dehority, PA-C, to discuss her specific case and unique treatment options.
Dr. Sternschuss saw that Linda was experiencing pelvic organ prolapse (known as POP) or the drooping of pelvic floor organs due to weakened or damaged supportive tissues that surround them. This damage can be caused by a number of conditions like pregnancy, menopause, genetics, heavy lifting, and more.
Some cases of POP are more severe than others, so treatment options can range from simple Kegel exercises to surgery. Linda's case wasn't life-threatening, but she knew that it had the potential to limit her active lifestyle. Linda worried whether pelvic floor exercises would be enough to allow her to safely do all her favorite activities. That's when she asked Dr. Sternschuss about the possibility of surgery.
After some tests, Dr. Sternschuss determined that Linda would make a good candidate for robotic-assisted surgery to repair the prolapse. This minimally invasive, advanced surgical method would aim to restore the pelvic organs to their natural position with a just a few small abdominal incisions.
"There was no doubt in my mind about getting the surgery. I was anxious to fix this before it got any worse," said Linda. "But I wondered how the robotic system would actually be used for my procedure."
This surgical system available at UP Health System – Marquette is the latest innovation in robotic technology for surgeries. From the command console, the surgeon performs the procedure by controlling multi-jointed, wristed instruments while looking through a magnified view using a high-definition camera. "Mindy and Dr. Sternschuss explained that they would be in full control, and the system is actually doing thousands of checks every second. It's very cool," said Linda.
Linda found that the staff in the Urogynecology office were able to answer her questions quickly and clearly. Because Linda lives in Iron Mountain and would be traveling for care, it was essential to have access to the staff by phone. "Dr. Sternschuss and Mindy are very well-trained in their unique specialty. Whenever I have concerns, they take the time to address each one," said Linda.
After the surgery, Linda stayed overnight in the hospital before returning home to Iron Mountain. "After two weeks or so of feeling tender, I was surprised at how quickly my abdominal incisions were already healing," said Linda. "I'm very grateful that Dr. Sternschuss and her team were able to help me take care of this issue before it really got in the way of my life."
"Patients who undergo pelvic organ prolapse repair surgery often delay it until the discomfort and impact of adjacent organs affect their daily activities and quality of life," said Dr. Gina Sternschuss.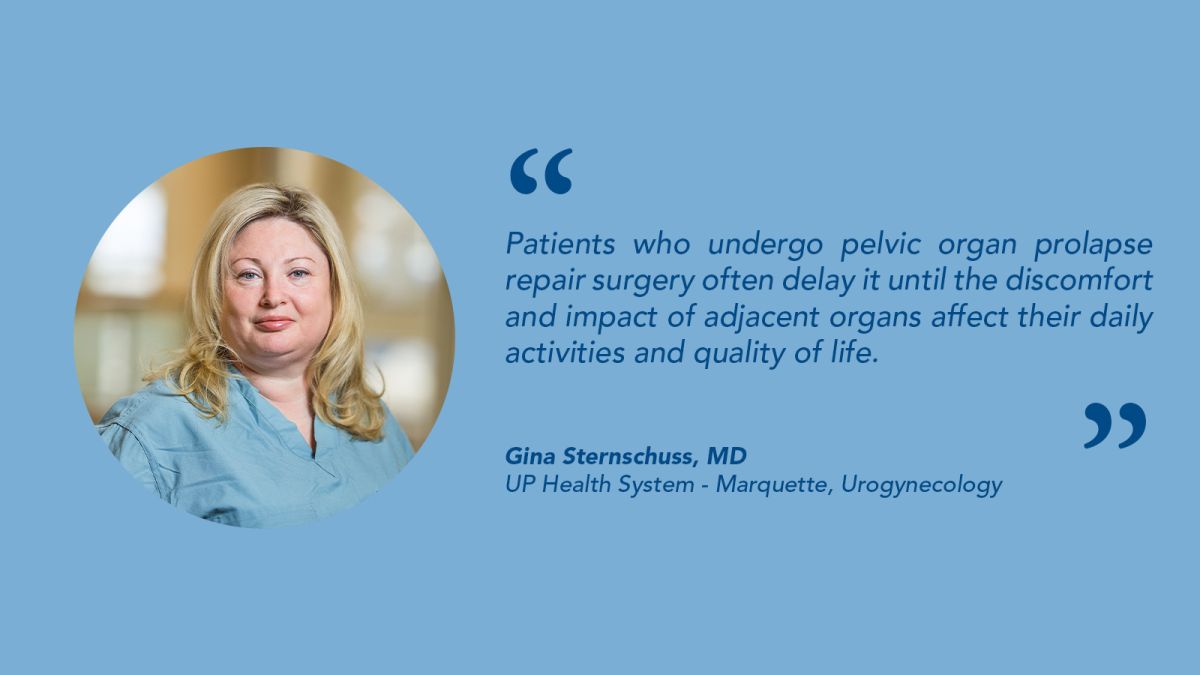 Several months post-surgery, Linda excitedly shared she's doing well. She admitted that because she feels so good, it's been difficult to patiently wait for her full recovery before diving back into an active lifestyle. "Dr. Sternschuss and Mindy did tell me that I might feel tempted to push their restrictions sooner than I expected, and they were right," said Linda.
"I would recommend UP Health System – Marquette, Urogynecology to anyone who might be experiencing something like what I went through. Dr. Sternschuss and Mindy know what they're doing."
To learn more about the services at UP Health System – Marquette, visit:
Read All Posts