Diane never gave up. So her cancer did.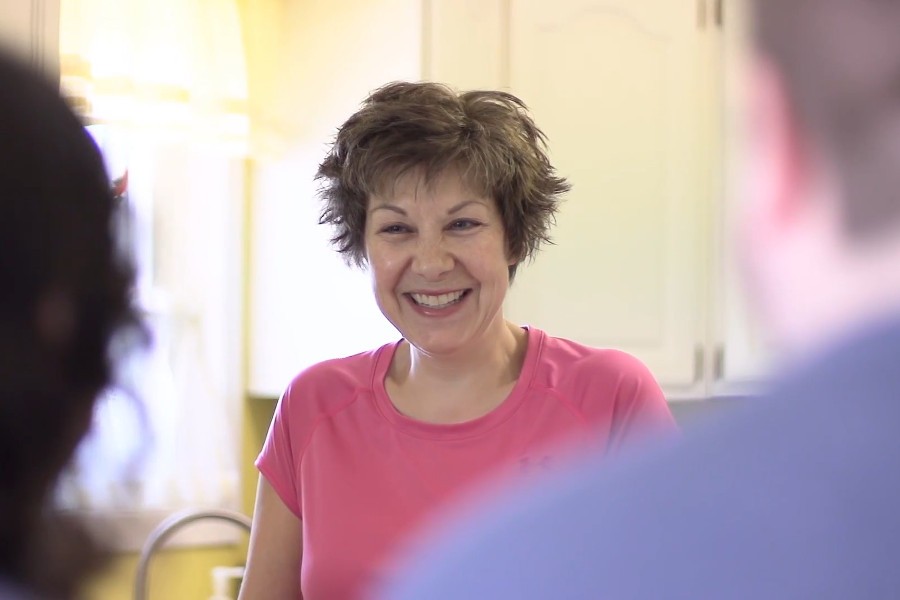 "I"m alive to be that hope for another cancer patient."
Diane has been a registered nurse for 30 years, but it was her own cancer diagnosis in 2009 that sparked a passion for applying her medical skills to easing the suffering of those with cancer. Today she is a chemotherapy nurse at UPHS – Marquette Hematology/Oncology. Her motto: "Live, laugh, love."
"I felt a calling to be here after I got my own cancer," explains UP Health System – Marquette chemotherapy nurse Diane Dodendorf-Rice.
Diane was working at the UPHS – Marquette Blood center when she was diagnosed with colorectal cancer. She recalls, "It was July 22, my son's fifteenth birthday." Pathology reports confirmed the cancer was at stage four, having spread to Diane's lymph nodes and liver.
"My odds weren't good," says Diane. "I cried for five days straight. Then I woke up on day five and said, 'I'm done crying. I'm going to beat this.'"
Diane's husband, David, and teenage kids Chelsey and Austin instantly embraced Diane's sudden fighting spirit and "they were right there with me, staying positive."
But a positive attitude, although essential, would not be enough. Diane worked with a UPHS – Marquette oncology team, and currently is under the care of oncologist Dr. Sheetal Acharya. She underwent surgery to remove two-thirds of her liver and weathered a grueling chemotherapy and radiation therapy regimen. Months passed, but Diane stayed determined with "a positive attitude and lots of prayers."
The Negaunee High graduate and 1986 graduate of Northern Michigan University's registered nurse program spent the early years of her career working on the hospital's Oncology Unit. At that time, the young nurse found oncology work emotionally draining and moved on, eventually serving 20 years at the UPHS Blood Center. Many years later, while undergoing chemotherapy treatment, it occurred to her that the cancer journey was not hers alone.
"Something good always comes out of something bad," says Diane. "I think I got cancer so I can help other cancer patients. And now I have the best job in the world."
Diane beat the cancer.
"My quality of care was excellent," she says. "I wouldn't go anywhere else, and I actually filled out my application to work here (at UPHS – Marquette Hematology/Oncology) while I was getting a chemo treatment." It wasn't long after that she was part of the cancer care team. "I think our staff is fantastic. We are one big happy family."
While she is monitored closely every six months by Dr. Acharya, Diane' life could not be more full. There's her love of baking to keep her now college-student kids fueled, and there are plans for eventual snowbird status, down the road when her nursing career winds down.
Diane says, "I think about my cancer many times a day. And I think I'm alive to be that hope for another cancer patient."
Read All Posts