UPHS – Portage Heroes | Chris Sochay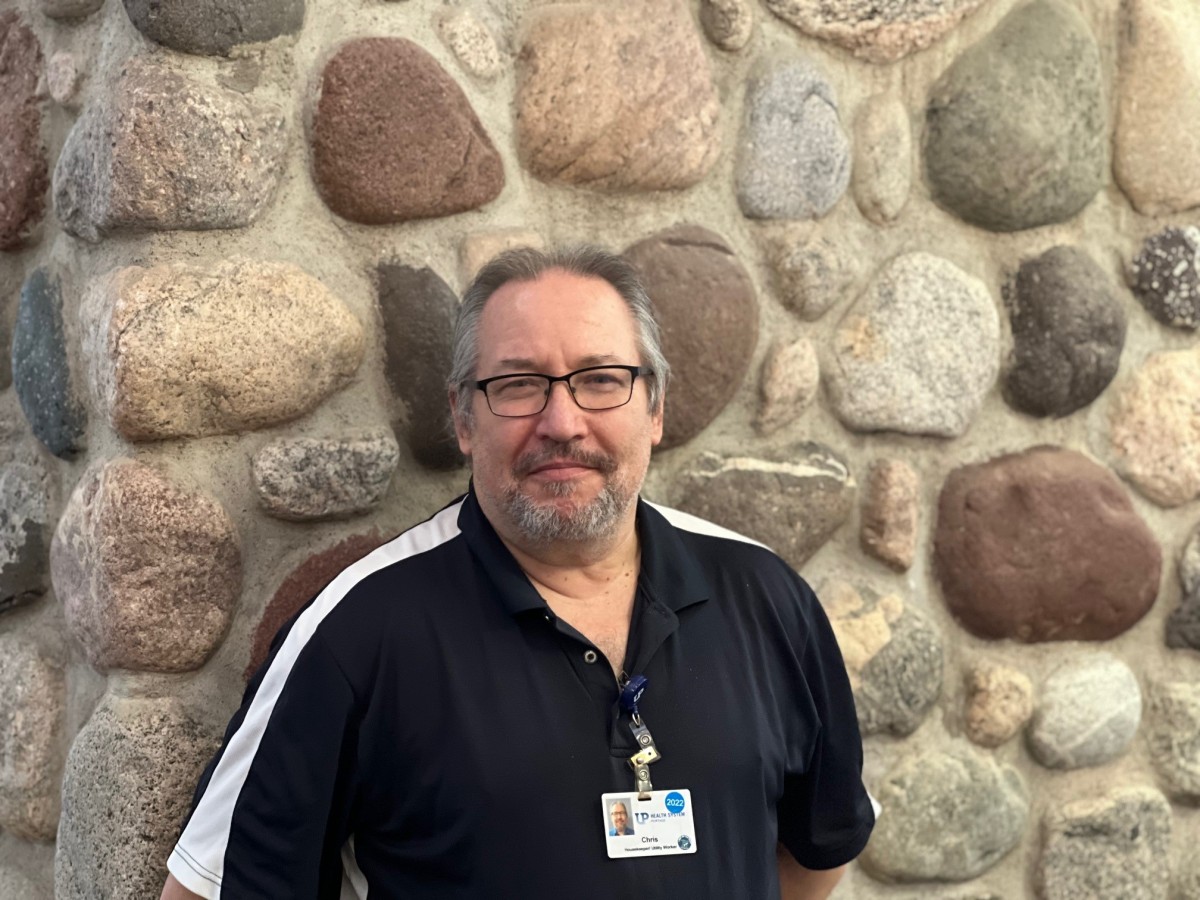 What is your role at UPHS – Portage?
I am a Housekeeper and Utility Worker for UP Health System – Portage.
What was your inspiration for getting into healthcare?
I was looking for a career opportunity that was a little more meaningful and provided me with a sense of bettering our community. Working in healthcare has given me that sense of satisfaction that I was looking for and I am thankful for that.
What's a typical day like for you?
There is nothing typical about my day. It can be a rapidly changing environment and I strive to do my best to provide a sanitary, comfortable and safe space for our staff and patients. I'll do whatever is necessary to make it easier for our direct care staff to better take care of our patients. I also go through other areas such as radiology, the apothecary and public access spaces before returning to the emergency department for an afternoon check. Lastly, I will occasionally work on the second floor in the inpatient unit and I am on call throughout my shift for any department that may have any housekeeping needs. It makes for a busy day, but I enjoy it.
How long have you been employed here? Have you always been in the same position?
I have been here for almost three years and have always held the same position.
What are some of the big changes you have experienced in this position?
I came in to my position shortly after the COVID-19 pandemic started. I quickly learned how fast protocols and procedures can change, while learning new things on a daily basis. It helps to keep my job interesting.
What are some of your interests outside of work? What is your favorite local gem?
I have been blessed with two children, a son and a daughter. They have both grown, flown and are on their own, but still live locally and I treasure any time that I get to spend with them. I love the outdoors and am always ready to hit a trail for hiking or launch my kayak for a day on the water. I'm also a hockey junkie that will take in any game that I am able to watch. We live in such a beautiful area that it is difficult to pick any one local gem, but any of our waterfalls will always draw me in.
What do you enjoy most about working at UPHS – Portage?
I am privileged to work in a friendly welcoming atmosphere with an incredible group of people. I get a sense of accomplishment and satisfaction at the end of every day.
Read All Posts