UP Health System – Portage Honors Extraordinary Nurses with DAISY Award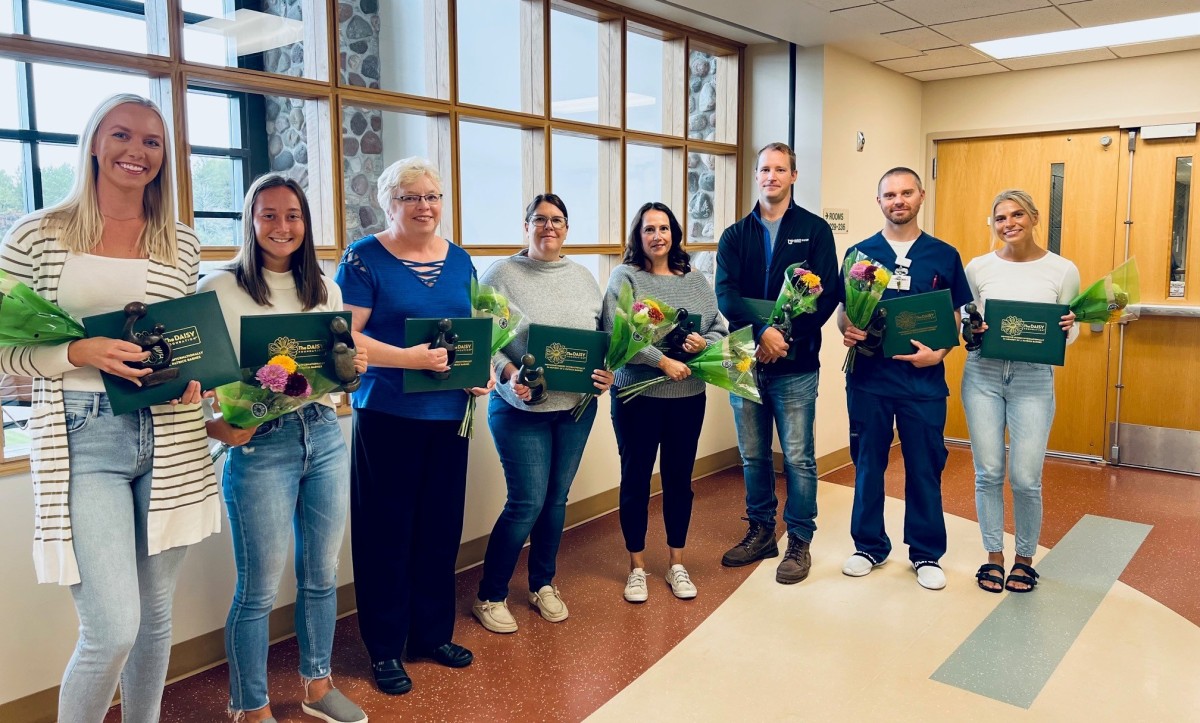 UP Health System – Portage (UPHS – Portage) is proud to honor Stacey Lassila, RN; Wanda Givens, RN; Jordan Juntunen, RN; Mary Willmer, RN; Callie Donnelly, RN; Dillon Velmer, RN; Leena Bekkala, RN; and Brooke Larsen, RN; with The DAISY Award for Extraordinary Nurses®
The team of compassionate and kind nurses has dedicated their time and passion to our patients for multiple years. The group was nominated by a patient who was transferred to our facility for immediate surgery. Their nomination read:
"In May 2023, I was transferred to UPHS – Portage for a perforated ulcer, which was two ulcers. Dr. Liston performed emergency surgery. This team of caregivers helped me deal with this long-coming journey. They let me name my drains and even made me labels. They washed my hair. They moisturized my feet. Never once did they complain when I rang my call light. They all took the time to truly listen to me and did everything in their power to make my stay as comfortable as possible and made it easy to forget why I had to be there. So thank you! Well done, keep giving your patients this excellent care. You are all my heroes for life."
UP Health System – Portage would also like to recognize the entire team of nurses who were nominated for the DAISY award this quarter:
Danielle Hamlin, RN
Abigail Jukuri, RN
Erin Aho, RN
Crystal Heider, RN
Deb Juntunen, RN
Evan Hyrkas, RN
Sam Haapala, RN
Caroline Bisbee, RN
Michael Massie, RN
Rebekka Kerry, RN
Patrick Prouty JR., RN
Myra Nordstrom, RN
The DAISY Foundation is a not-for-profit organization, established in memory of J. Patrick Barnes, by members of his family. Patrick died at the age of 33 in late 1999 from complications of Idiopathic Thrombocytopenic Purpura (ITP), a little-known but not uncommon auto-immune disease. (DAISY is an acronym for Diseases Attacking the Immune System.) The care Patrick and his family received from nurses while he was ill inspired this unique means of thanking nurses for making a profound difference in the lives of patients and their families.
Patients, families, and colleagues may nominate nurses. Nominations are reviewed by a committee at UP Health System – Portage, which then selects the winner. Awards are presented throughout the year at celebrations attended by the honoree's colleagues, patients, friends, and family. Each honoree receives a certificate commending them that reads, "In deep appreciation of all you do, who you are, and the incredibly meaningful difference you make in the lives of so many people." Honorees also receive a DAISY Award pin and a beautiful and meaningful sculpture called A Healer's Touch, hand-carved by artists of the Shona Tribe in Zimbabwe.
Bonnie Barnes, FAAN, chief executive officer and co-founder of The DAISY Foundation said, "When Patrick was critically ill, our family experienced first-hand the remarkable skill and care nurses provide patients every day and night. Yet these unsung heroes are seldom recognized for their super-human, extraordinary, compassionate work. The kind of work the nurses at UP Health System – Portage are called on to do every day epitomizes the purpose of the DAISY Award."
In addition to the DAISY Award for Extraordinary Nurses, the Foundation expresses gratitude to the nursing profession internationally in over 3,900 healthcare facilities and schools of nursing with recognition of direct care nurses, nurse-led teams, nurse leaders, nursing faculty, and nursing students, through the J. Patrick Barnes Grants for Nursing Research and Evidence-Based Practice Projects and nurses participating in medical missions.
To nominate an extraordinary nurse for the DAISY Award, visit our website. For more information on the DAISY Award, please visit the DAISY Foundation website.
Read All Posts