Birthing Center | UP Health System - Portage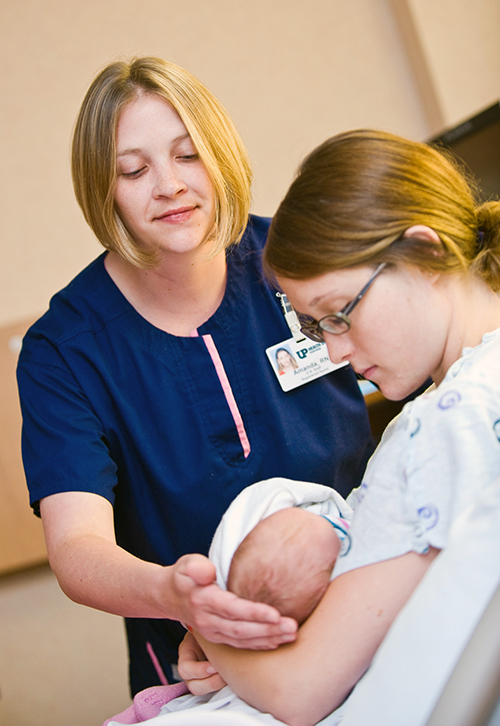 The birth of your child is a special moment of your life. You may be excited, eager and anxious about the path ahead. That's why we partner with you to provide compassionate care to help make the road ahead a memorable time.
From prenatal care to post-pregnancy health, we're with you all the way, with a personalized experience for you and your baby, including:
Prenatal classes
Multiple childbirth options, including natural childbirth and midwifery
Invitingly warm environment
Private rooms that allow you to experience labor, delivery, recovery and post-pregnancy healthcare all in one space for your comfort and convenience
Dedicated medical staff
Around-the-clock nursery support
Breastfeeding support
Medical equipment for your newborn
Midwives
Whether you're a first-time mom or ready to grow your family, we can help your 'welcome to the world' day go as smoothly as possible.
---
Features
Our Family Birthing Center is designed to meet the childbirth needs of mom, baby and family. Located on the second floor of the UP Health System – Portage hospital in Hancock, the center offers deluxe accommodations designed to pamper mothers-to-be throughout each unique stage of the birthing process. Our Birthing Center offers:
5 private delivery rooms
C-section operating suite
Vaginal birth after cesarean (VBAC) services
Newborn nursery
Lactation support
Epidural administration
Our staff consists of board-certified OB/GYN physicians, three board-certified pediatricians and registered nursing staff. All RNs have fetal monitoring training through AWHONN.
Our birthing rooms are designed to make you as comfortable as possible with a home-like appearance. Each has a private bathroom, rocking chair, comfortable sleeper sofa, a television, and free Wi-Fi Internet. Room service dining is also available.
Our family-centered environment allows mom and baby and support person to be together in one room during the entire stay. Baby's routine check-ups and nursing care occurs in your room to allow for bonding and attachment.
---
---
Benefits of our family-centered environment:
Rooming-in & Couplet Care: promotes stronger family bonding, allows baby to feed when ready, and helps mothers learn their baby's wants and needs
Moms and babies are calmer and get more rest when baby is near.
Promoting skin-to-skin contact with mom or dad helps your newborn transition outside of the womb, helps bonding between baby parent, and increases breatfeeding successfulness
Our nursing staff provides lactation assistance, helping achieve breastfeeding goals
Gain confidence through better education of infant care, ensuring a smoother adjustment to home
We make sure families feel supported and informed, including them in all care decisions
Help With Your Newborn
Our nurses are all trained in postpartum and newborn care. They can help you learn bathing, swaddling, and comforting techniques as well as how to recognize your baby's cues and states of awareness. You also will receive encouragement and support in your feeding preferences. You go home feeling confident to take excellent care of your new baby.
What to Bring for Baby
Baby clothes
Approved Carseat
Visitor Information
Daily visiting hours are from 10 am – 8 pm. Children younger than age 12 are not permitted to visit, except for the newborn's siblings. If a sibling is ill or running a fever, they will not be permitted to visit.
Overnight Guests
One support person may stay overnight in your birthing suite. Each room contains a sleeper sofa. The minimum dress code requirement is a t-shirt and shorts for overnight guests. Shoes must be worn outside of the patient rooms at all times. Overnight guests must provide their own personal care supplies. The hospital cafeteria is available for their use or you may purchase room service. The Emergency Department entrance must be used after 8 pm.
---
Birthing Center Tours
If you would like to schedule a free tour of the Family Birthing Center, please call 906.483.1234. We look forward to meeting you!
Breastfeeding Support
Did you know that breastfeeding can help lower a mother's risk of high blood pressure, Type 2 diabetes, ovarian cancer, and breast cancer? Our staff assists all mothers during the various stages of breastfeeding. For more information, see this GUIDE TO BREASTFEEDING.
---
Safety Guidelines
Your time in the hospital offers you and your baby an opportunity to get to know each other. Therefore, we encourage you to interact with your baby as much as possible. The more time you spend together, the more comfortable you'll both feel when you get home. However, safety is still our top priority. Please adhere to the following safety guidelines:
To prevent your baby from rolling off of your bed, please place him in his/her crib when you become drowsy, plan on sleeping, or when you are using the bathroom. You may call your nurse anytime you need help. Hospital policy prohibits sleeping with your baby in your bed.
If you plan on talking a walk out of your room, please let your nurse know. If you plan to shower or use the bathroom, pull the crib over to the bathroom door and leave the door open.
Newborns sometimes move around more than you think possible. Therefore, it is important to never leave your baby unattended on your bed.
Do not carry your infant in the hallways. Push your baby in his/her crib.
All visitors will be instructed to wash their hands before handling your baby. Always remember to wash your hands each time as well.
Although newborns have some immunity to infection, they still need protection from contagious diseases and other conditions. Please help by telling your guests not to handle your infant if they have, or have been exposed to, any illnesses or infections. By following this guideline in the hospital and after you return home, you'll play an important part in safeguarding your new baby's health.
Security
The Family Birthing Center provides a safe and secure department for their patients. We have an electronic security system to keep your baby safe.
Infant security is of utmost importance to the Family Birthing Center. Two hospital ID bracelets are applied to baby, in addition to one for mom and one for a designated support person (father/significant other). Infants are not released to anyone who does not have a corresponding ID band or to staff not wearing a UP Health System - Portage picture ID badge.