Birthing Center | UP Health System - Bell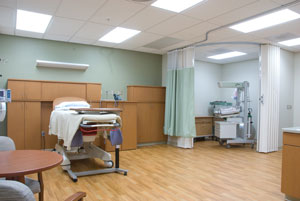 The birth of your child is a special moment of your life. You may be excited, eager, and anxious about the path ahead. That's why we partner with you to provide compassionate care to help make the road ahead a memorable time.
From prenatal care to post-pregnancy health, we're with you all the way, with a personalized experience for you and your baby, including:
Childbirth education online through UPHS
Inviting, warm environment
Private rooms that allow you to experience labor, delivery, recovery, and post-pregnancy healthcare all in one space for your comfort and convenience
Dedicated medical staff
Around-the-clock nursery support
Breastfeeding support
Medical equipment for your newborn
Whether you're a first-time mom or ready to grow your family, we can help your 'welcome to the world' day go as smoothly as possible.
---
Birthing Suites
Our birthing suites are furnished with a birthing bed, state-of-the-art medical equipment, bassinet cradle, and a comfortable rocking chair.
A private bathroom with a whirlpool tub is in the birthing room for convenience and accessibility. The birthing room is also equipped with a TV for your comfort and convenience.
At Bell, you are given a choice of when you want to have your baby in your room, or when you prefer to have your baby cared for in our nursery. The nursery care is available 24 hours a day and the care is provided by nursing staff.
---
Visitors to the OB Unit
Before you come to the hospital, please choose the people to provide support for you during labor and delivery. We ask that no more than three support people be present in your labor room; these three support people are not interchangeable. Your support people can keep other family members and friends informed about your progress and birth of your baby. Once baby is born, we ask that visitors allow mom, baby and significant other some recovery time for 2 hours.
Brothers and sisters of your baby may visit during general visiting hours. Siblings should be accompanied and supervised by an adult whose primary responsibility is to the child and can leave with the child if this becomes necessary. Other children under the age of 14 and unrelated to the baby are not permitted to visit. All visitors are to be free from any signs or symptoms of illness.
We ask that you remind visitors who plan on touching or holding your baby to wash their hands. Remember that this is a non-smoking facility. Smoking is only allowed off the hospital campus. Visitors should refrain from excessive amounts of traveling into and out of the unit.
The unit is closed to visitors at 6:45 am and 6:45 pm for 30 minutes during shift change. To protect your privacy and that of others on the unit, there will be no loitering or standing in the department hallways. Visitors will be directed to wait in the ACU lobby area.
Nursing staff reserve the right to override the visitor policy as deemed necessary for the safety of our patients and our commitment to providing excellent patient care.
---
Quiet Time
Our moms are busy snuggling their babies. They need some extra quiet time to help their babies grow big and strong. Bell Hospital promotes growing and healthy families by providing a quiet environment so moms and babies can get the rest that they need. Quiet time is from 2 pm to 4 pm. We strongly suggest visitors to refrain from visiting during this time.
---
Overnight Stays
Only one significant other may stay the night in the room with you.
---
Comments from proud parents of Bell Babies:
"I would recommend that someone go to Bell only if they want perfection. If they don't, go somewhere else."
"I can't believe the personal attention and care that me and my baby received at Bell. Everyone was wonderful to us."
"I did want to point out one of your OB nurses as being exceptional in her job… I feel she deserves special recognition… She went into great depth to make my labor, birth & stay as comfortable as she could."
"It couldn't have been better. Keep up the good work!"