Getting Back to Enjoying Camp | Dave's Story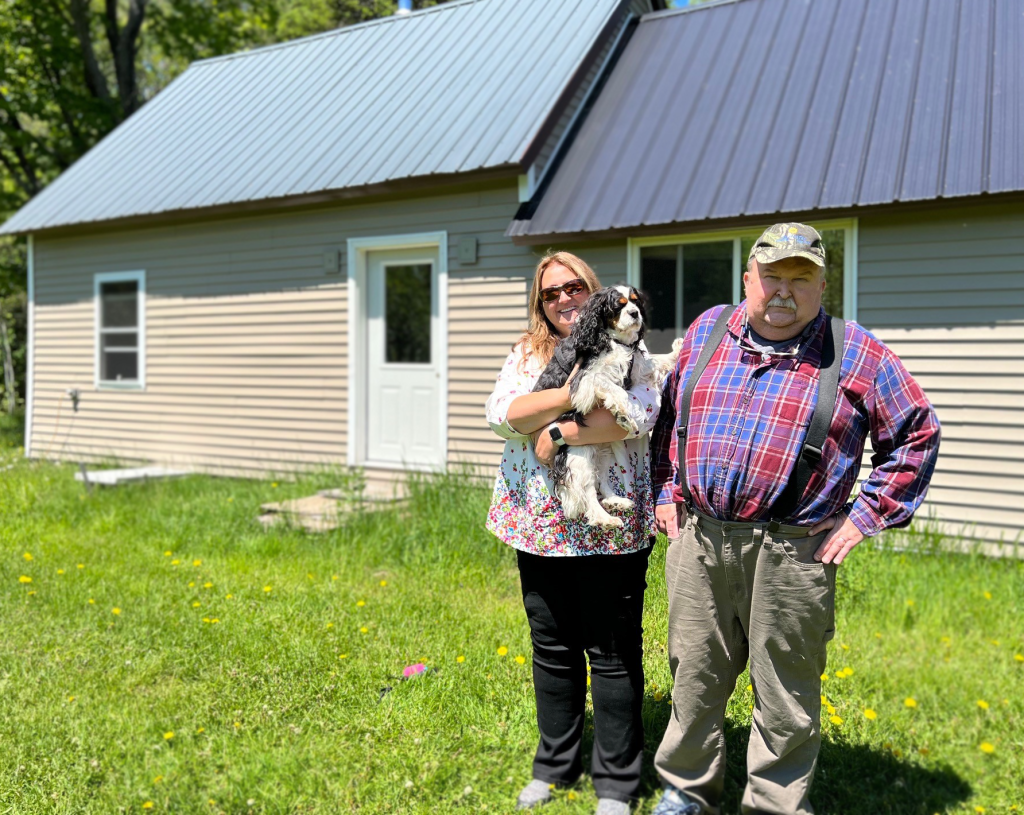 Dave is pictured with his wife and their dog, Luna at Camp.
Dave Linja and his family reside in the beautiful Upper Peninsula and are happy to call this area home. From spending time at camp during the summer, to gearing up for the chilly winter months, Dave enjoys the special lifestyle that Northern Michigan offers. With its many outdoor recreation opportunities and pristine natural areas, it is no surprise that the UP draws millions of visitors each year.
A few years ago, Dave began to experience unusual persistent pain in his right leg and he knew right away that something was off. "It was a never-ending aching pain that began to bug me day in and day out," said Dave.
Dave met with his primary care provider, who discovered a bone lesion on his right leg that was causing the pain, aching, and discomfort. A bone lesion is an abnormality caused by cells within the bone dividing uncontrollably – leading to a lump or mass of tissue that can weaken the bone.
However, that was not the only bad news that Dave received that day. Dave had been dealing with the bone lesion for so long, that his femur became brittle and fractured — causing even more pain and discomfort.
Dave's provider suggested laying low for a few weeks and beginning a physical therapy program with the licensed therapists at UP Health System – Portage.
"When my doctor suggested physical therapy, I was not a big fan at first as I like to get a lot of my exercise and strength from my work chores at the camp. But I trusted my doctor's advice and told myself it is worth a shot trying," said Dave.
Dave had his first day of physical therapy with Alysse Hill, DPT. Alysse and other staff helped Dave focus on proper stretching, safely moving his joints, and improving the strength of his muscles. After a course of physical therapy, Dave was very impressed with his progress. The aching in his leg has diminished, and he's able to once again enjoy life without being limited by constant pain.
"I want to thank my therapist, Alysse, and the other rehabilitation specialists at UP Health System – Portage for such a positive experience and for motivating me to become stronger and healthier. Without them, I could not have properly healed my leg," said Dave.
Since finishing his program, Dave was asked what it was like to be able to count on UP Health System – Portage and he said, "It was top notch! Living only five minutes away, it was great to be able to stay local and receive the best care possible. I highly recommend this team."
The physical therapy specialists at UP Health System – Portage are dedicated to providing quality physical therapy and rehabilitation treatment available – close to home. Physical therapists provide a wide range of services for patients of all ages, such as recovery from injury, prep and recovery from surgery, gait training, pulmonary rehab, neuromuscular re-education, custom orthotic casting and fitting, sports rehab, hand therapy, pelvic floor therapy, patient education, and more.
For more information on UP Health System – Portage's rehabilitation services, visit UPHealthSystem.com/Rehabilitation
Read All Posts