First, Walking. Next, Adventuring | Matt's Story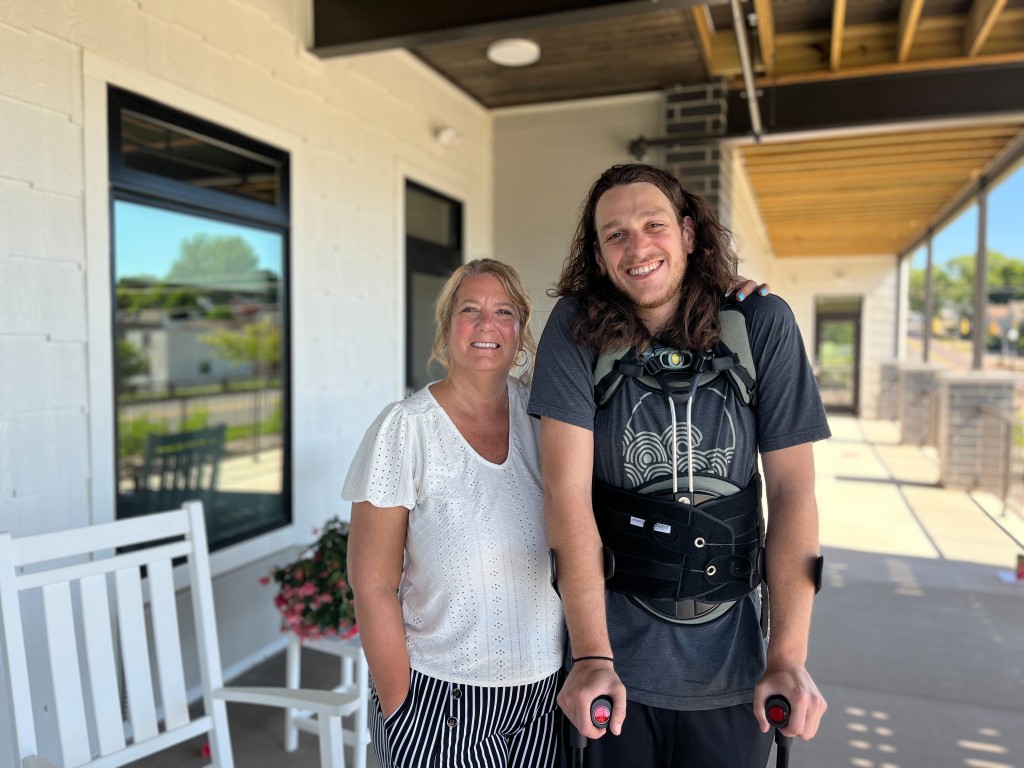 Matt Kemery had been looking forward to his road trip around northern and upper Michigan for quite some time. A 28-year-old engineer based near Detroit, Matt was well prepared for his solo camping experience. His motorcycle was packed with gear and his route was mapped out – ready for sightseeing along the lakeshores of Huron, Michigan, and Superior.
Matt had just finished exploring the Pictured Rocks area and was starting the return trip home when his motorcycle suddenly hit some gravel along the roadway. Matt lost control, and in a matter of seconds found himself in the roadside ditch with the motorcycle laying across his legs.
"I couldn't move or feel my legs at all. It was terrifying. All I could do was call out for help – and luckily someone heard me," said Matt. A family happened to pull over nearby to check on their boat trailer and heard Matt calling out. They immediately alerted 911 and soon Matt arrived at UP Health System – Marquette via emergency helicopter. In Marquette, the trauma team and board-certified neurosurgeon, Dr. Andrew Look, were ready to assess and treat Matt's injuries.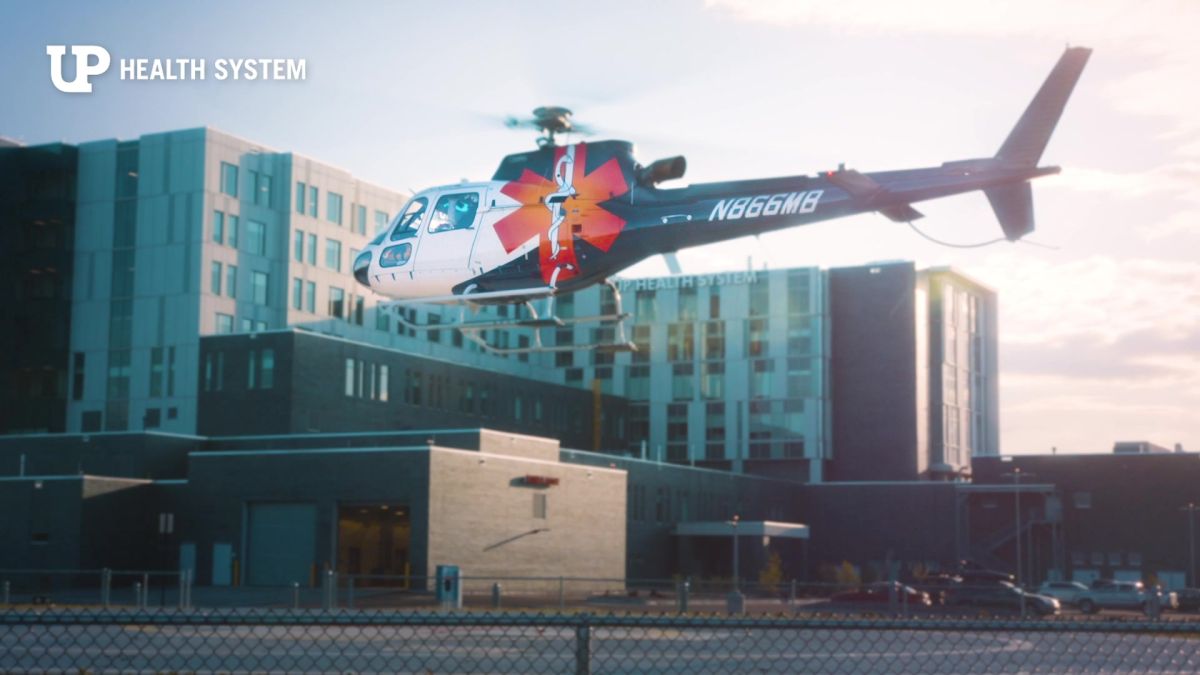 The emergency helicopter lands at the helipad at UP Health System - Marquette.
It wasn't until hours later that Jackie Kemery, Matt's mother, learned what was going on. "It's one of the worst calls a mom can receive," said Jackie Kemery, Matt's mother. "The hospital told me that Matt was in an accident, but he was stable. I got to Marquette as quickly as I could."
Dr. Andrew Look and his team performed the spinal fusion procedure and next, Matt moved to the Intensive Care Unit (ICU) to be monitored and assess next steps. While his procedure was overall successful, there was still much uncertainty surrounding Matt's recovery. He was experiencing significant pain, muscle weakness, and mobility challenges. Even mundane things like brushing his teeth took serious effort – but Matt would not give up so easily. He felt determined to return to what he loved about his life: traveling, exploring the outdoors, and spending time with family and friends.
"Being able to wake up, look out the window and see Lake Superior on the horizon… it helped me remember what I was working so hard to get back to," said Matt.
The staff in the Inpatient Rehabilitation Unit (IRU) at UP Health System – Marquette found Matt's courage inspiring. With the promising progress he showed immediately following the procedure, the care team agreed that Matt could greatly benefit from joining a comprehensive inpatient rehab program. That's when Matt decided to remain in the Upper Peninsula to continue working with the inpatient rehab team, rather than transfer to another facility. Jackie was able to stay too, thanks to the long-term lodging program with the Beacon House – a local, non-profit organization that could offer Jackie a no-strings-attached "home away from home" during this incredibly stressful experience.
Once Matt was officially cleared to start the IRU program, the work could begin. Five days a week, he completed three hours of targeted physical and occupational therapy. Treatment was led by Dr. Louis Ostola, Physical Medicine & Rehabilitation Specialist, alongside Occupational Therapist, Katie Aho, and Physical Therapist Assistant, Andy Roell.
"Matt's drive to get better is very inspiring. Every day, he would ask what he could do to improve or how he could push himself just a little bit more," said Katie Aho, OT.
After nearly a month of working through the program, Matt's discharge day arrived. He was finally strong enough to return home and continue care in an outpatient setting. Matt and his mom packed their things, said goodbye to his care team, walked out of the hospital, and set their sights on the future.
"So many people helped me get to where I am today – the EMTs, the surgery team, the nurses in the ICU, and everyone on the rehab unit. I knew I could count on them during such an uncertain time," said Matt.
Matt's departure from the inpatient rehab unit is a huge milestone in his recovery journey, and he remains determined to continue working and making even more progress. Matt looks forward to getting back to exploring the outdoors once again alongside family and friends – and even someday returning to the UP to visit with hospital staff and complete his road trip.
UP Health System – Marquette is home to the only Inpatient Rehabilitation Unit in the Upper Peninsula of Michigan. This individualized, intensive therapy is designed to maximize patients' physical, cognitive, emotional, psychological, and social functions with the goal of the patient returning to their home and community environment. To learn more about rehabilitation services at UP Health System, visit UPHealthSystem.com/Rehab.
Read All Posts