An Unexpected Trip to the ER | Baby Julia's Story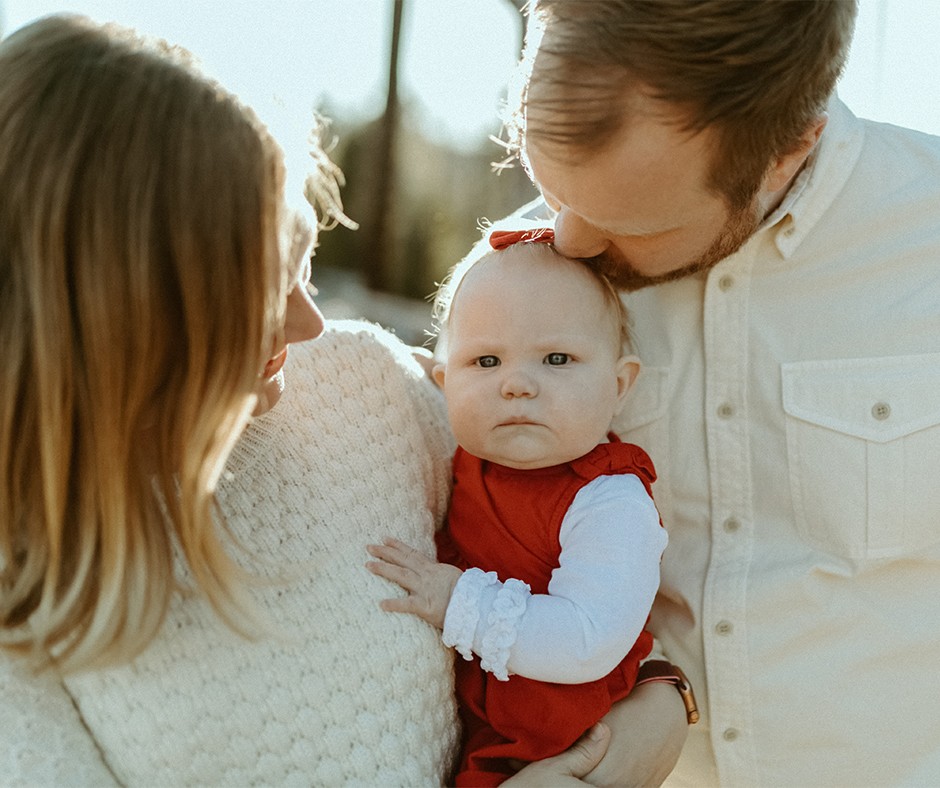 From left: mother, Rachael Prusi, baby Julia Hamren, and father, Jonas Hamren.
For Rachael Prusi, a pharmacist born and raised in Negaunee, that day began as normal as any. It was the week after Thanksgiving, and Rachael was finishing some errands and catching up after another busy week. Once she finished her to-do list, Rachael decided to pick-up her 9-month-old daughter, Julia, early from daycare to enjoy the rest of the afternoon together.
When Rachael arrived at daycare, the manager was relieved to see her. About an hour after the kids enjoyed a quiche-style egg snack, Julia's face appeared to be breaking out with a rash. They were just about to call Rachael when she walked through the door.
During the short drive back home, Rachael noticed the rash was spreading from Julia's face down to her chest. After giving Julia a dose of Benadryl, Rachael continued to watch Julia closely. Rachael noted that Julia was visibly uncomfortable, unusually quiet, and sleepy. Julia didn't appear to be having trouble breathing, but Rachael realized that Julia's tongue was poking out of her little mouth – was it beginning to swell? Rachael was starting to panic.
"Right away my head just went to all the worst outcomes of an allergic reaction. I knew I needed to get her to the hospital," Rachael said.
Luckily, Rachael's mom lives close by, and after a quick phone call, she immediately arrived to bring Rachael and Julia to the emergency room at UP Health System – Marquette. Rachael's husband, Jonas Hamren, left work to meet his wife and daughter there.
Bringing your 9-month-old to the Emergency Room for the first time is always stressful, but it can feel even scarier during a pandemic. Rachael couldn't help but worry if the hospital might be too busy caring for other patients – both COVID-19 patients and others. How long would baby Julia wait for care?
When the family arrived, the staff in the emergency room immediately realized the severity of Julia's condition and admitted her right away. They needed to act fast – Julia's rash was continuing to spread from her face and chest all the way down to her arms and legs. Medication was administered to combat what they confirmed to be a severe allergic reaction.
Although Rachael is a pharmacist and very familiar with the healthcare environment, she was too full of worry and relied completely on emergency staff to help her daughter. "I couldn't be a pharmacist at that moment – I had to be a mom," Rachael said.
After taking a few oral medications and steroids, including more Benadryl, Julia suddenly began throwing up. That was when the doctors made the decision to give Julia an epinephrine injection. Rachael and Jonas held Julia close while they administered the shot to her leg. Right away, Julia cried – just as most babies do when they receive a shot – but then her condition began to improve. Rachael and Jonas finally began to feel relieved, but also thankful that the hospital staff was able to act so quickly.
"I definitely felt like we were a priority – like we were being heard and cared for. And not just Julia, but Jonas and I, too."
"After the whole ordeal was winding down, a nurse asked how Jonas and I were doing. I was so focused on Julia, that I completely forgot about my own feelings," continued Rachael.
The nurse left their room briefly, then returned with some clean scrubs so that Rachael could change out of her clothes, which were covered in vomit. This gesture really stood out to Rachael.
"They did such a great job taking care of us, not just medically but emotionally as well," said Rachael. "As scary as this experience was, it has taught me that if an emergency like this happens again, high-quality care will be readily available right here at home at UP Health System – Marquette."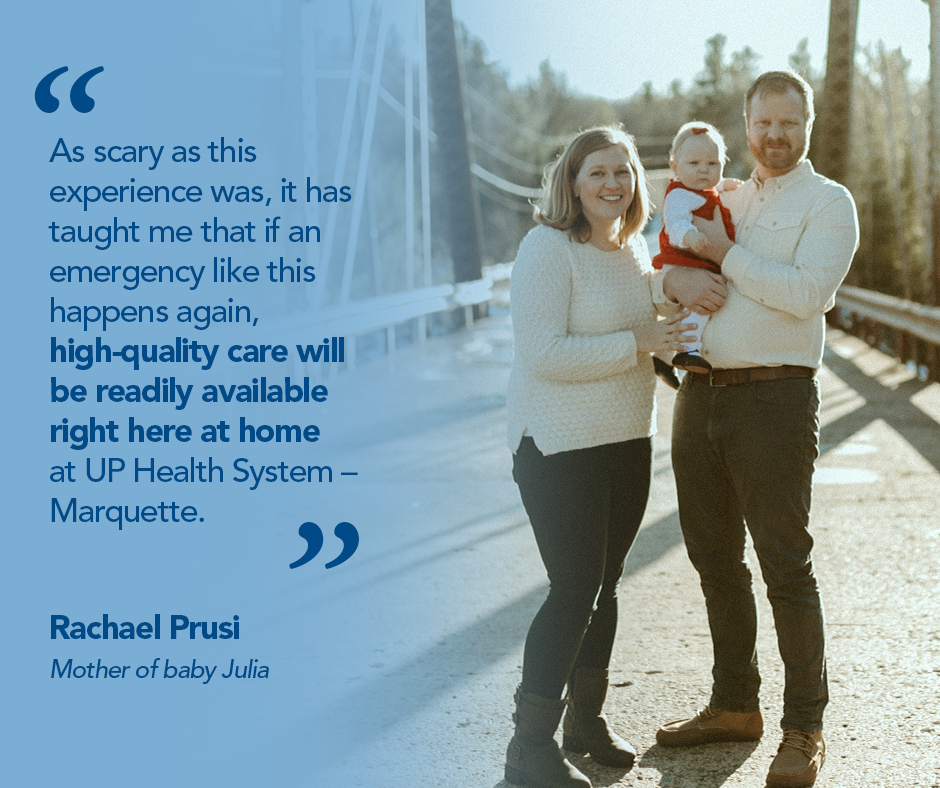 After a follow-up appointment with both their pediatrician and an allergist, the family confirmed that Julia cannot eat anything with eggs or egg products, including cookware that has come into contact with eggs.
"Since we discovered Julia's allergy, our lives have changed quite a bit," said Rachael. "We have to be hypervigilant when it comes to reading food labels and making sure that both our family and the daycare staff understand her allergy. There is a chance she could grow out of her allergy at age 6 or 7, but for now, we're learning how to live with it."
Despite this sudden lifestyle change for her parents, Julia remains a very happy baby. Her parents say she loves being outside and doesn't mind the snow. Julia's first birthday is coming up, so Rachael and Jonas are searching for the best egg-free cake recipes to celebrate.
When minutes matter, count on UP Health System – Marquette. We're here, providing emergency care 24-7. We've always been committed to providing the highest quality care and ensuring the safety of our patients, employees, providers, volunteers, and visitors.
Read All Posts