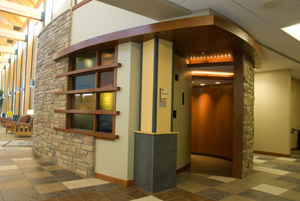 The staff of Bell Hospital recognized the role of clergy as a part of the healthcare team of each patient. Let your caregiver know if you would like a visit by local clergy. Bell is pleased to have an active Chaplaincy Committee, a hospital Chapel, and a Meditation Room.
The Bell Chaplaincy Committee consists of the following members:
Rev. Warren Geier
Head of Chaplaincy Committee
Bethany Lutheran Church, Ishpeming
486-4351
Rev. Ted Deur
Bible Baptist Church, Ishpeming
485-4653
Rev. Steve Solberg
Immanuel Lutheran Church, Negaunee
475-9161
Rev. Laura Maki
Bethel Lutheran Church, Ishpeming
485-5533
Rev. Renee Grochowski
Father's Heart Christian Fellowship, Ishpeming
204-2274
Rev. Matt Osborne
Wesley United Methodist Church, Ishpeming
486-4681
Rev. Stacy Pethke
Faith and Trinity Lutheran Church, Ishpeming
486-6791
A small group of Bell employees attend a non-denominational prayer service every Wednesday in the Chapel from 10:15am - 10:30am. Please feel free to attend. Members who make up the chaplaincy committee rotate to attend and facilitate this weekly service. There is also a prayer intention box in the chapel which is encouraged to be used at any time by Bell employees, visitors and patients with any intentions they may want prayed for at the service.