Your personal connection to people who care...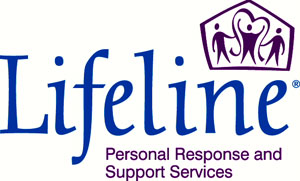 While people choose Lifeline for a number of reasons, they remain Lifeline subscribers largely because of the caring response they get from our professional Emergency Room staff every time they push their personal help button.
Lifeline takes the time to learn all about you. So...when you press your personal help button, our highly trained staff, who answers your call, knows your special needs before you say a word.
Your health and well-being is our only concern. We're always there when you need us.
Continue to live in the home you love...
This is your life...and you want to continue living it the way you want ~ in the comfort of your own home...where you're surrounded by the memories of your lifetime...where you can easily do things the way you like to do them.
Lifeline gives you the confidence and freedom to do just that! Because there's always someone standing by to help, whenever you need it.
24 hours a day...
7 days a week...
Every day of the year.
Lifeline is as close as the press of a button.
Help is just a button push away...
Whenever you need help, one press of your lightweight, waterproof, personal help button activates a small in-home unit called your communicator. It puts you in touch with a caring member of the medical team on duty in the Bell Lifeline Call Center who will contact you to find out what kind of help you need.
When needed, he or she will call one of your friends, neighbors or relatives ~ your "responders" ~ who will come to your home to check on you. If you need more professional help, the call staff will arrange for it immediately.
And if you press your button and can't speak, our staff knows exactly what to do.
Give your family peace of mind.
With Lifeline, your loved ones can rest assured that you're safe, secure and happy in your own home. If you do need help, we'll call the right kind of help for you. It may mean calling an ambulance, or simply asking for a family member, friend or neighbor to look in on you.
And...all units are checked monthly to assure they are working properly.
Peace of mind is well within your reach AND very affordable.
With Lifeline, there is a one-time installation fee of either $30 or $50, depending on where you live and a $25/month charge - the LOWEST in the Upper Peninsula! Join those who are living independently in their homes, thanks to their Lifeline service...a truly personal, caring connection. Why wait?
Lifeline is a Non-Discriminatory Service.
For more information on the Lifeline Program, please contact:
Tami Ketchem
Lifeline Program Director
Bell Hospital
906-485-2611