Vascular Care & Vein Center
UP Health System Vascular Surgery is dedicated to the treatment of vascular disease, including aneurysms of the thoracic and abdominal aorta, lower extremity arterial occlusive disease, renovascular disease, cerebrovascular disease, venous disease, AVMs, and dialysis access.
We provide an extensive array of open and endovascular (percutaneous) approaches to these disorders, as well as a comprehensive vein center.
Vein Center
The UP Health System – Marquette Vein Center provides a comprehensive approach to venous disease. Whether cosmetic or clinical our experienced team of providers can help you. We offer the latest technology for the treatment and management of varicose veins and venous insufficiency.
Veins Before and After Procedure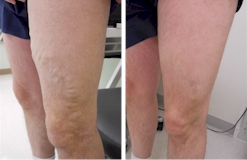 Call us at 906.449.3440 for a consultation to get your legs feeling and looking better today.
Common Vein Disease Questions