UP Health System – Marquette Honors Longtime NICU Nurse with DAISY Award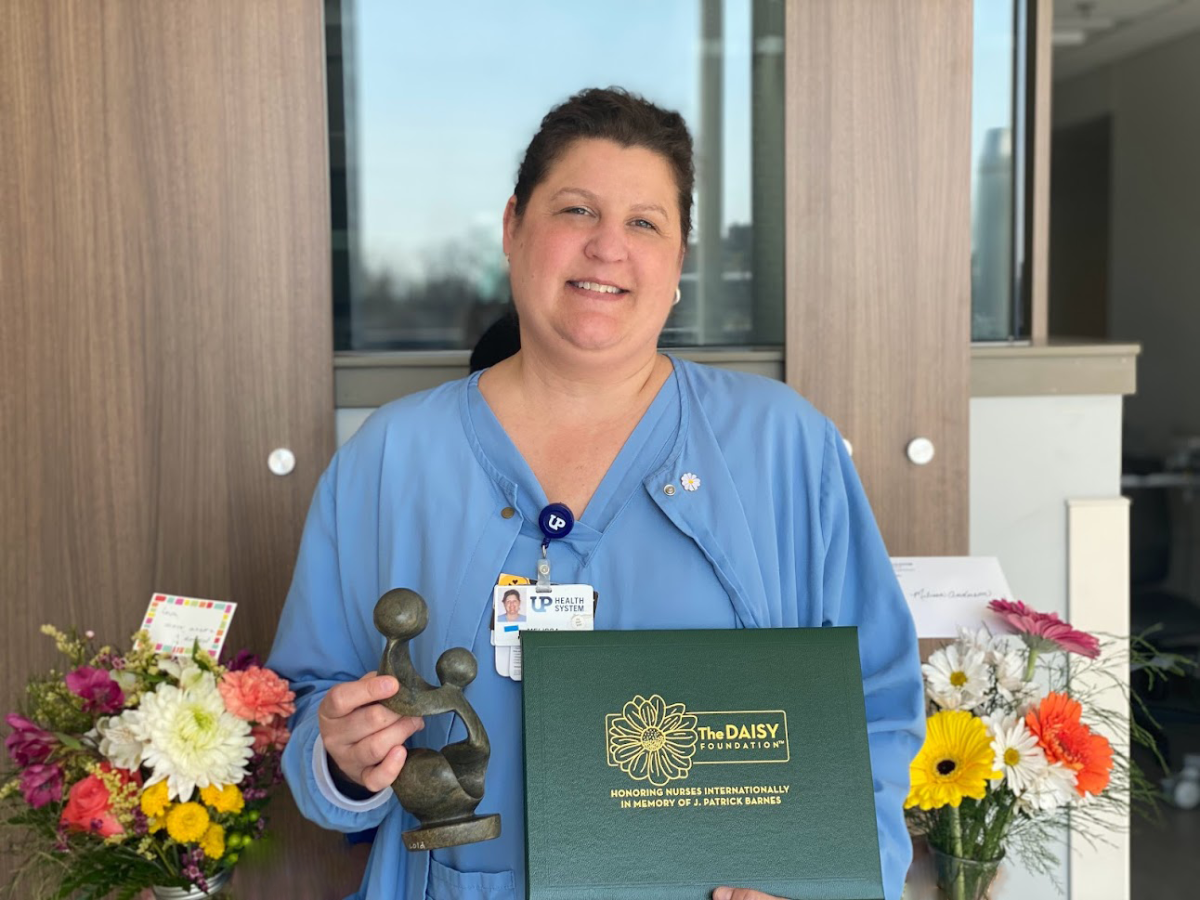 UP Health System – Marquette is proud to honor Melissa Anderson, RN, with The DAISY Award for Extraordinary Nurses®. The award is given out on a quarterly basis and is part of the DAISY Foundation's mission to recognize the extraordinary, compassionate nursing care they provide to patients and families every day.
Melissa cares for our tiniest patients in the Neonatal Intensive Care Unit (NICU), where she has dedicated her career and passion for nearly 25 years. She was nominated by a student who was shadowing her in her role. Her nomination read:
"I am a high school student who is very passionate about helping others and learning everything that I can now in hopes of becoming a nurse someday. I have spent the past month observing in the NICU and I always look forward to coming each day. There has been one nurse who truly stands out to me and that is Melissa. The hard work, determination, and knowledge that I see while observing her are truly inspiring. As a high school student, I have little knowledge of the things going on in the NICU, and Melissa goes above and beyond to give me explanations, advice, and interesting facts along with doing her work. I have gained so much knowledge from being with Melissa, but most importantly I have gained assurance. What I mean by that is that I am sure that nursing is where I want to be—I aspire to be a nurse like her. I think that it is important for those in healthcare to inspire youth because we are the future, and we are following in the footsteps of those whom we look up to. Healthcare may be associated with the words 'health and medicine' most often, but the word 'care' is also involved, and Melissa embodies both aspects of healthcare. Thank you, Melissa, for your inspiration, kind heart, and your advice. I hope to become a nurse like you." - Cora Anderson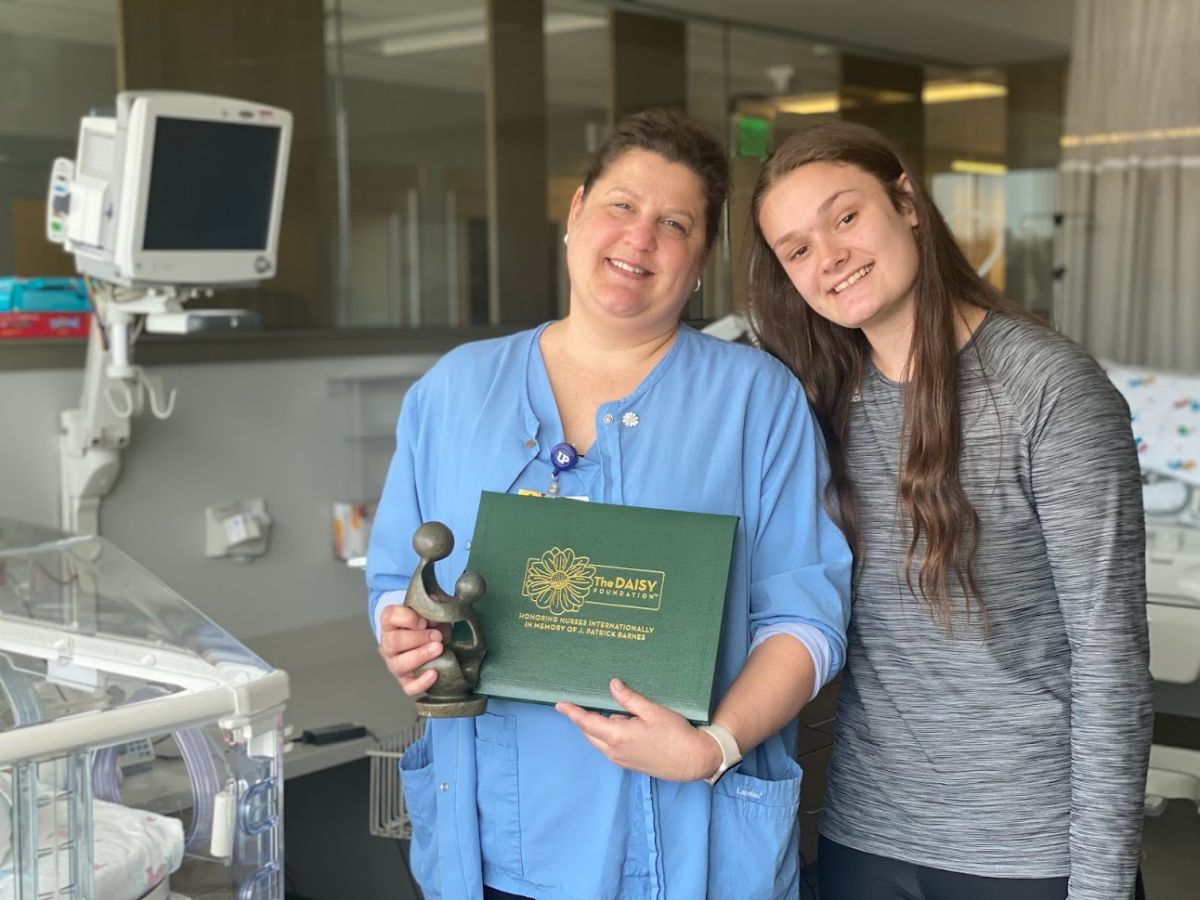 UP Health System – Marquette would like to also recognize the entire team of nurses who were nominated for the DAISY award this quarter:
Carrie Kalcich, RN | Neuro/Ortho/Peds Unit
Jason Lehtola, RN | Neuro/Ortho/Peds Unit
Tori Tyner, RN | Medical-Surgery Unit
Dani Hollenbeck, RN | Intensive Care Unit
Zachary Spence, RN | Cardiac Unit
John Binko, RN | Medical-Surgery Unit
Catherine Hebert, RN | NICU
Krista Fuller, RN | Intensive Care Unit
Michael Parks, RN, CDCES | Nutrition & Wellness
Christina Hanson, RN | Intensive Care Unit
Jesse Elizondo, RN | Intensive Care Unit
Stephanie Anderson, RN | Cancer Center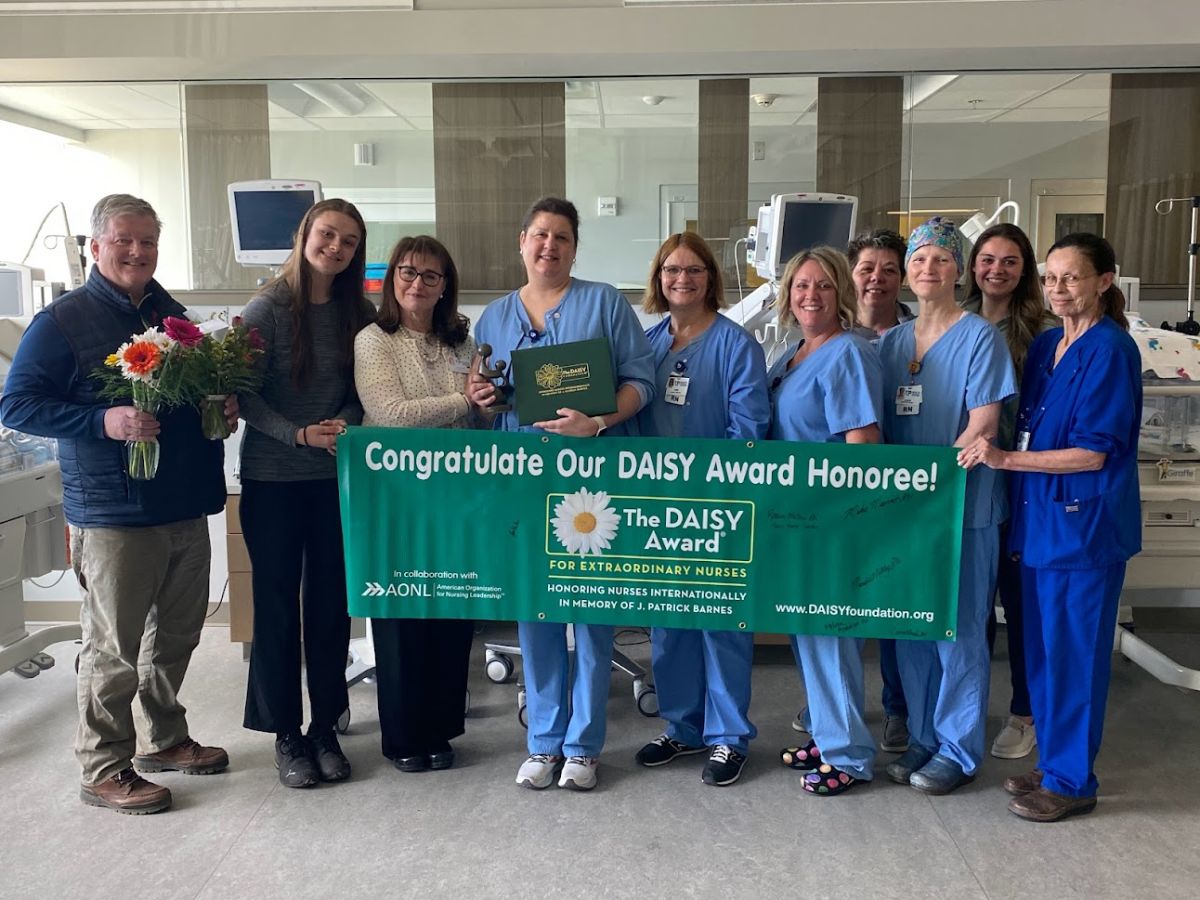 The DAISY Foundation is a not-for-profit organization, established in memory of J. Patrick Barnes, by members of his family. Patrick died at the age of 33 in late 1999 from complications of Idiopathic Thrombocytopenic Purpura (ITP), a little-known but not uncommon auto-immune disease. (DAISY is an acronym for Diseases Attacking the Immune System.) The care Patrick and his family received from nurses while he was ill inspired this unique means of thanking nurses for making a profound difference in the lives of patients and their families.
Nurses may be nominated by patients, families, and colleagues. Nominations are reviewed by a committee at UP Health System – Marquette, that then selects the winner. Awards are presented throughout the year at celebrations attended by the honoree's colleagues, patients, friends, and family. Each honoree receives a certificate commending them that reads, "In deep appreciation of all you do, who you are, and the incredibly meaningful difference you make in the lives of so many people." Honorees also receive a DAISY Award pin and a beautiful and meaningful sculpture called A Healer's Touch, hand-carved by artists of the Shona Tribe in Zimbabwe.
Bonnie Barnes, FAAN, chief executive officer and co-founder of The DAISY Foundation said, "When Patrick was critically ill, our family experienced first-hand the remarkable skill and care nurses provide patients every day and night. Yet these unsung heroes are seldom recognized for the super-human, extraordinary, compassionate work they do. The kind of work the nurses at UP Health System – Marquette are called on to do every day epitomizes the purpose of the DAISY Award."
"One of our top priorities is making sure our nurses know how valued and appreciated they are for the incredible, lifesaving care they provide every day," stated Christine Stryker, MBA, MSN, RN, chief nursing officer, UP Health System-Marquette. "The DAISY Award is one way we do that, and we are proud to participate in the program, as we are proud of all our nursing staff."
In addition to the DAISY Award for Extraordinary Nurses, the Foundation expresses gratitude to the nursing profession internationally in over 3,900 healthcare facilities and schools of nursing with recognition of direct care nurses, nurse-led teams, nurse leaders, nursing faculty, and nursing students, through the J. Patrick Barnes Grants for Nursing Research and Evidence-Based Practice Projects and nurses participating in medical missions.
To nominate an extraordinary nurse for the DAISY Award, visit our website. For more information on the DAISY Award, please visit the DAISY Foundation website.
Read All Posts