Summer Fun in the UP | Stay Safe and Injury-Free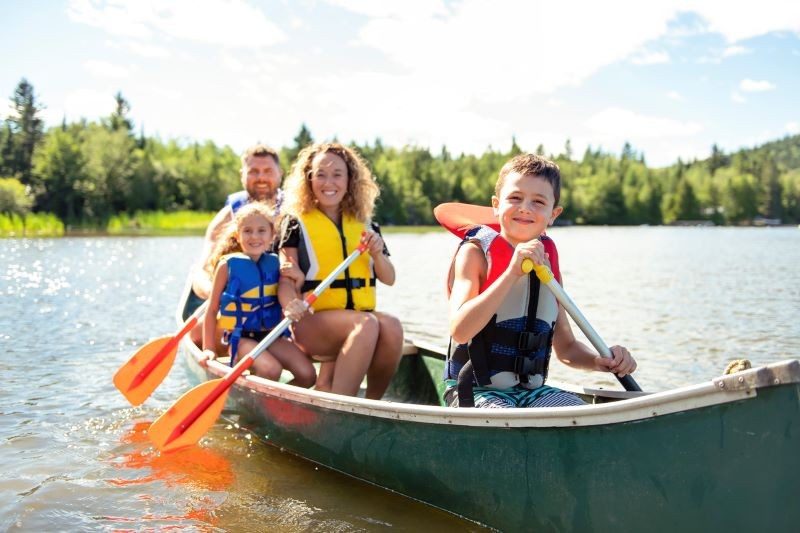 Summer is just around the corner in the Upper Peninsula. While you may be excited for the weather to warm up after a long winter season, it's important to remember some key safety tips for keeping your summer fun and free of injury and stress.
Heat Safety
According to NOAA, extreme heat is the number one weather-related killer in the U.S. Overexposure to heat is especially dangerous for children, the elderly, and people with chronic health problems like high blood pressure. The good news? It's relatively easy to take steps to prevent heat-related illnesses and to learn the warning signs so that you can act quickly. Prepare yourself and your family now so that when the height of summer arrives, you'll be ready.
Beat the heat this summer with these cool tips:
Stay aware of temperatures and humidity levels and modify your activity appropriately.
Limit outdoor activities when temps are highest — typically from 10 am - 4 pm.
Stay hydrated. Drink plenty of low to no-sugar fluids, and remember, water is best when it comes to hydration!
Look for cooler areas, even when outside. When the thermometer climbs above 90, take the opportunity to visit your local library or community center, or browse a fun store, especially if you don't have access to air conditioning.
Avoid enclosed places like cars or garages.
NEVER leave children or animals in a car unattended.
Take breaks when exercising.
Limit or avoid adult beverages; alcohol can impair your body's ability to self-regulate its temperature.
For more information about heat safety, visit the CDC website.
Ultraviolet (UV) Safety
One of the best parts of summer is the increased daylight — leading to more opportunities to get much-needed vitamin D from the sun. However, too much exposure to the UV rays found in sunlight can damage skin cells and increase the risk of developing skin cancer. UV rays are an invisible kind of radiation that comes from the sun, tanning beds, and sunlamps.
To avoid overexposure to UV rays from the sun, keep these tips in mind:
Always use an SPF-15 or higher sunscreen that protects against both UV-A and UV-B rays.
Reapply sunscreen as often as directed, especially when swimming or exercising. The Skin Cancer Foundation recommends applying sunscreen 30 minutes prior to sun exposure while re-applying every two hours.
Wear sunglasses when outside to protect your eyes from UV-A and UV-B rays.
Minimizing your exposure to the sun between 10 AM to 4 PM when the sun is at its strongest, especially in July and August.
Even if it's not hot outside, don't be fooled by the cooler temperatures — you're still at risk for sun damage.
Wear protective, loose-fitting clothing that blocks UV rays.
Take lots of breaks from direct sunlight, either indoors or in the shade.
If you do suffer sun damage, it's important to not get re-exposed to the sun while keeping the sunburn covered. For treatment, you can apply a moisturizing gel such as aloe vera, and for anyone over the age of 10, you can use an after-burn spray that contains lidocaine to alleviate the pain.
For more information about UV safety, visit the CDC website.
Water Safety
There's nothing that quite beats the heat like jumping in the water. In our community, there is no shortage of access to amazing water access — from Lake Superior, to a community pool, to one of the many inland lakes and rivers.
Whether you and your family are poolside, lakeside, or beachside, keep these tips top of mind:
Only swim in designated areas. Seek out areas that are supervised by lifeguards.
Always swim with a buddy, even in lifeguarded areas.
Never leave a child unattended near water or trust a child's life to another child.
Young children and inexperienced swimmers should wear U.S. Coast Guard-approved life jackets when around water.
Refrain from playing around drains and suction fittings in the pool.
Even when not swimming, be cautious near natural bodies of water like the ocean shoreline, rivers and lakes; currents and underwater hazards can make falling into the water dangerous.
Wear a life jacket when boating (most boating fatalities occur from drowning).
Avoid alcohol use.
For more information about water safety, visit the CDC website.
Need a provider for yourself or your family? UP Health System can help. Call 844.411.UPHS (8747) or visit the Find a Provider tab to get connected with the care you need.
Read All Posts