Local Art Rotating Exhibit
Art can play a significant role in health and the healing process. To promote these benefits, UPHS-Marquette is partnering with UP artists to maintain a rotating exhibition of local artwork in designated public areas of its facility. The exhibit will allow for sculptural/3-D displays and 2-D hanging displays, on a temporary basis, which will allow local artists the opportunity to showcase their works.
To enter a piece of artwork for display at the hospital, please read and sign the following Art Exhibit Policy and complete the Loan Agreement; then submit the forms, along with a JPEG photo of your work to Marketing1@mghs.org. You will be notified via email if your work has been accepted, and exhibit dates, as well as drop-off instructions, will be communicated at that time.
To comply with our picture hanging system, all hanging displays must be framed and hanging wire must be installed by the lender prior to delivery. See the example below.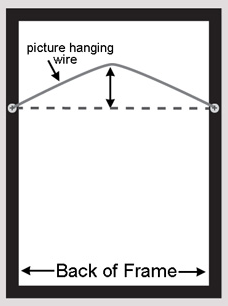 For other inquiries, please look over the policies and direct any questions to Marketing1@mghs.org
---
PLEASE NOTE | UP Health System will not be held liable or offer insurance for exhibited works, therefore it is highly recommended that artists procure and maintain coverage of their own works during its display period at the hospital.